System Mechanic Free 14.6 for Windows 10
'
It has been a while since we reviewed System Mechanic Free 11. It was 2012 then. Now, the free but stripped-down version of commercial PC tune up software has reached version 14.6. And we heard that version 15 is coming really soon. Hope it arrives just in time for Christmas. 🙂
The main interface of System Mechanic Free 14.6 is very much the same with version 11, except for the LiveBoost section (doesn't work in free version though) in the left pane. Plus, the application fully supports Windows 10.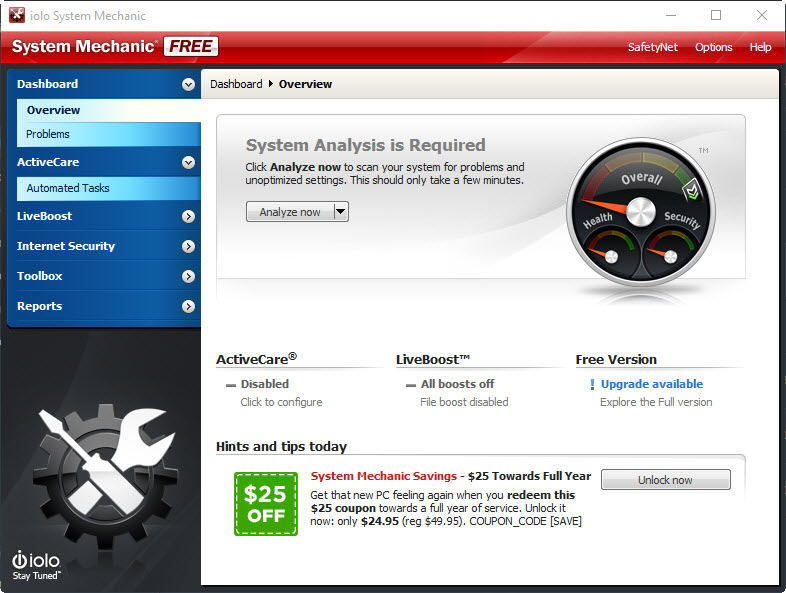 The free version has some of the features from the full version. There are a handful of basic tools you can use for free. You can access them from the left pane, in Toolbox > Individual Tools. Look for tools without the Advanced icon. Make sure you've activated the application with the free license code (in your email inbox) before using the tools.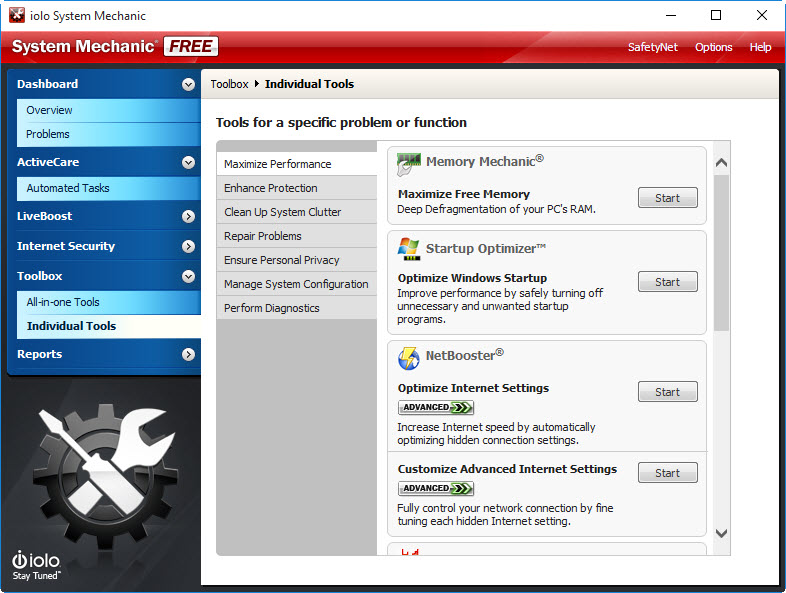 Memory Mechanic – enables you to defrag system memory to improve overall speed and stability.
Startup Optimizer Basic – allows you to scan and remove top 25 unnecessary and unwanted startup programs.
Registry Backup – allows you to backup or restore registry.
PC Cleanup – cleans up over 50 different types of system-clogging junk files and clutter.
Junk File Finder – helps you find and delete junk files, based on the criteria you choose.
Registry Tuner – helps you resolves registry problems by cleaning up invalid and obsolete registry entries.
Shortcut Repair – fixes or removes invalid shortcuts.
Privacy Cleaner – deletes web browsing data from popular web browsers.
Incinerator – permanently deletes selected files or folders.
Super Control Panel – gives you access to hundred of Windows settings in one place.
Duplicate File Inspector – finds duplicate files.
Advanced Uninstaller – just a normal uninstaller.
Advanced System Information – views a comprehensive list of PC's hardware, software, memory, installed devices and more.
System Change Tracker – tracks system changes.
To save your time, you can run all diagnostic, repair, cleanup and security tools with just click of the Start PC TotalCare button.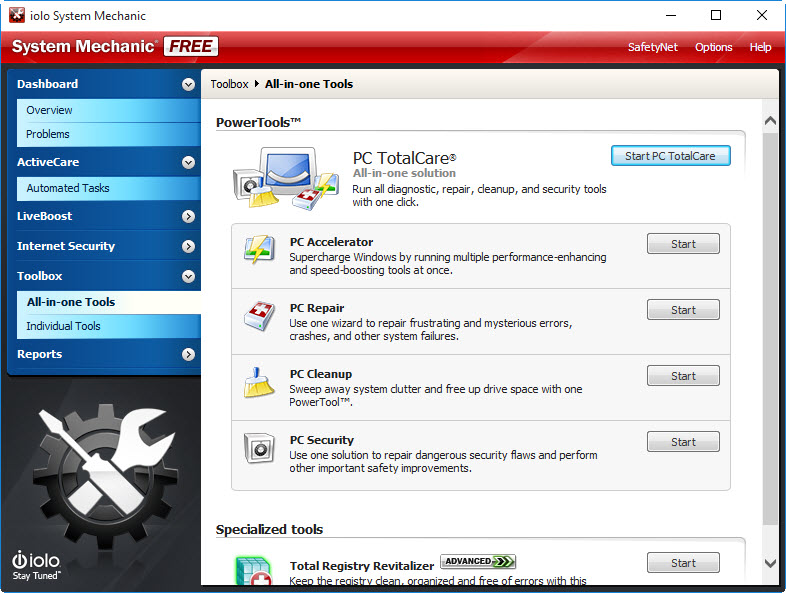 In addition to that, there is a PC Health Status gadget (not available in Windows 10) that shows real-time health status of your system from Windows sidebar.
To enjoy full features, you can purchase System Mechanic 14.6 for $49.95 ($24.95 for limited time) or Pro version (with System Shield anti-virus and anti-spyware) at $69.95 ($34.98 for limited time).
System Mechanic Free 14.6 is free for download and is compatible with Windows 10, Windows 8.1/8, Windows 7, Vista and XP.