Download System Mechanic Free 11 with Basic PC Tune Up Tools
'
Like the way Uniblue offers Powersuite Lite 2013 for free, iolo also includes a free but stripped-down version of its flagship PC tune up software, the System Mechanic Free 11.
In this article, we shall look into the installation process as well as the few available features in the software. The software is available for free, so don't expect too much from System Mechanic Free 11.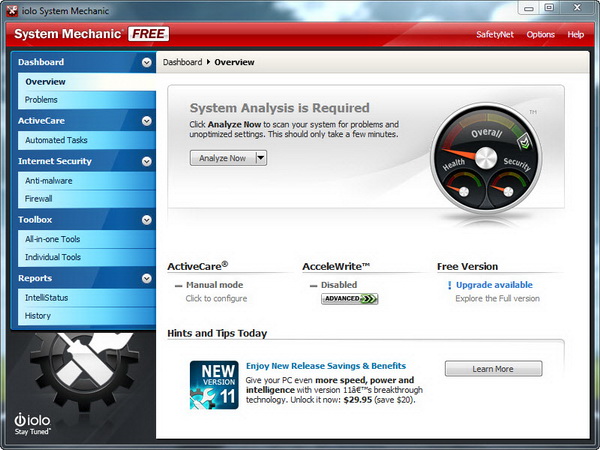 The Installation
After download, click on the executable file to launch iolo Download Manager. The download manager will then download the full setup of System Mechanic to your system and once finished, it will launch the installation of System Mechanic.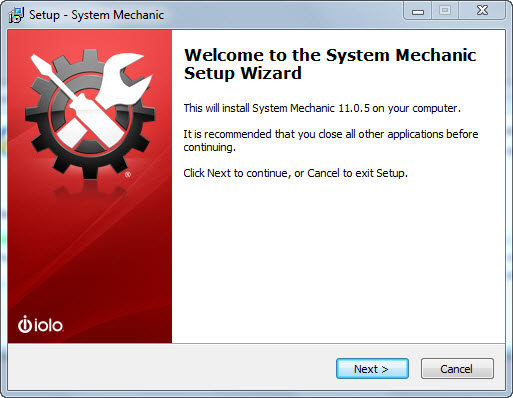 During installation, you need to choose the installation mode. Select the second option to install the free version of System Mechanic 11.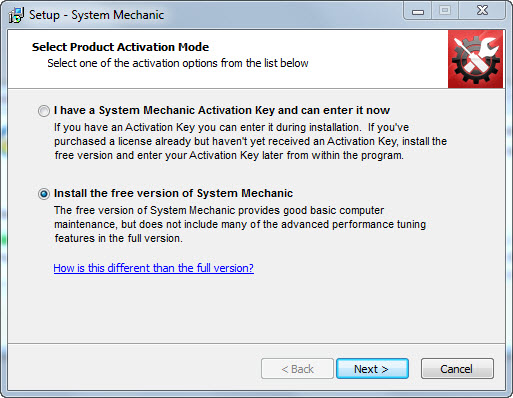 Next, you need to provide a valid email address to activate your System Mechanic installation. The free activation key will be sent to your inbox.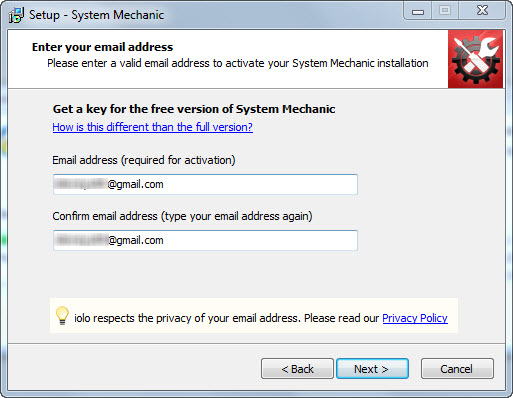 Follow the on-screen instructions to complete the installation. After installation, use the key to activate System Mechanic Free.
Using System Mechanic Free
This is the main window of System Mechanic Free. It looks the same as the paid version. Just that there are only a few features on offer as compared to paid version.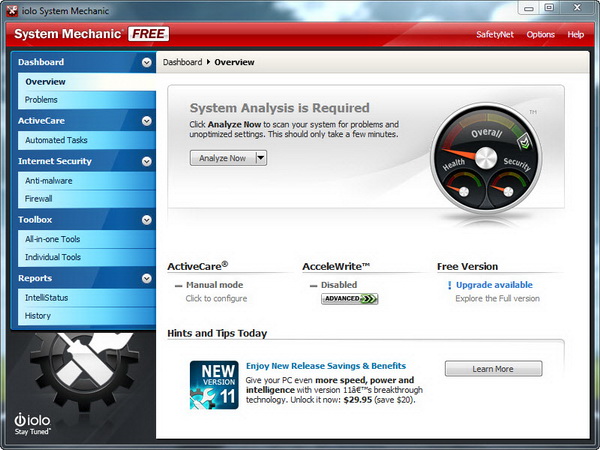 You can click on the Analyze Now button to scan for problems in your Windows and point out unoptimized settings. The process may takes a few minutes.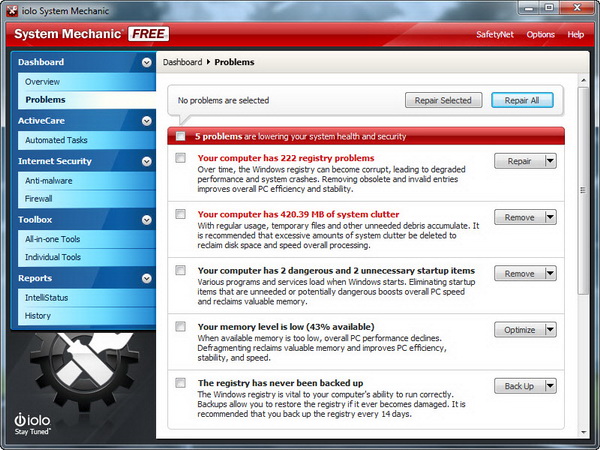 Or you can access all the available features under Toolbax > Individual Tools.
First, we look at the available tools that help you to fix problems in Windows. There's a Registry Tuner to help you resolves registry problems by cleaning up invalid and obsolete registry entries, also a tool to repair your Internet connection and a shortcut repair tool to fix or remove invalid shortcuts.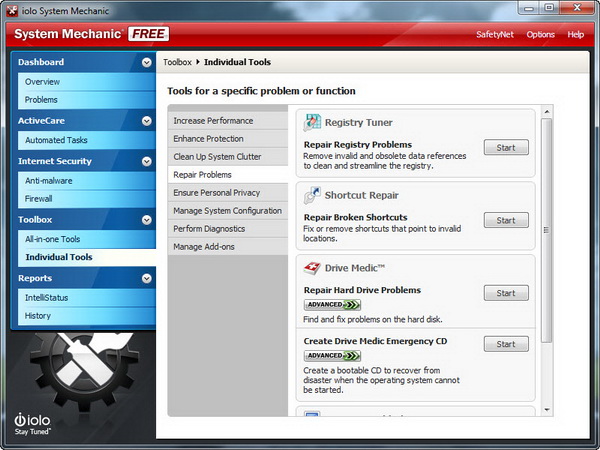 Besides that, you can get access to tools that help you to boost speed in Windows. The Memory Mechanic module enables you to defrag system memory to improve overall speed and stability,  meanwhile Startup Optimizer Basic allows you to scan and remove top 25 unnecessary and unwanted startup programs. Moreover, you can perform basic hard drive defragmentation with DriveAccelerator.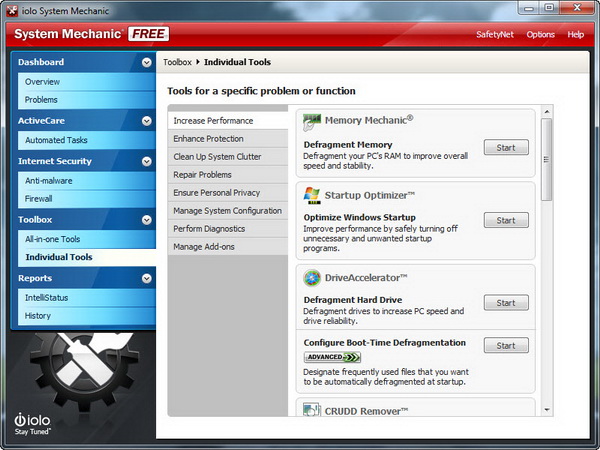 To help you clean up excessive system clutter, you can count on PC Cleanup module. It cleans up over 50 different types of system-clogging junk files and clutter.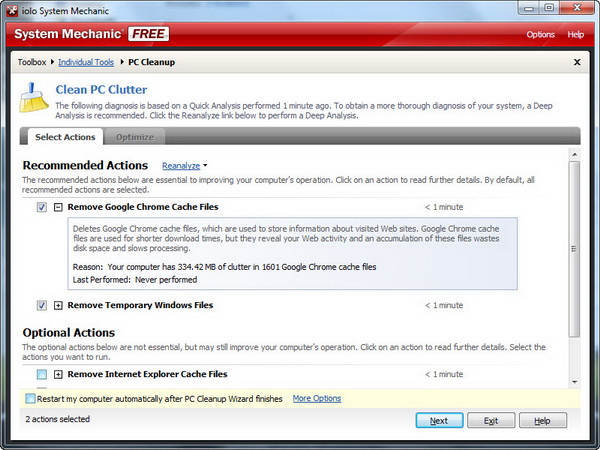 Other than that, there are junk file finder, privacy cleaner (delete web browsing data), incinerator (permanently delete selected files or folders), duplicate files finder, advanced uninstaller, registry backup and restore tool as well as PC Health Status gadget that shows real-time health status of your system from Windows sidebar.
There are however a handful of essential features that are missing in the free version. Among them are the new AcceleWrite (optimizes file write speeds on-the-fly), ActiveCare (set-and-forget patented technology that runs tasks automatically on your system), Energy Booster (turns off unused background programs and processes), Program Accelerator and SSD Accelerator. Learn more about the premium features here.
To enjoy full features, you can purchase System Mechanic 11 for $49.95 ($24.95 for limited time) or Pro version (with System Shield anti-virus and anti-spyware) at $69.95 ($49.95 for limited time).
System Mechanic Free is compatible with Windows 8, Windows 7, Vista and XP.