Safely Remove Windows XP Update Backup Files with Windows XP Update Remover
'
Each time when you install and update your computer with Windows security patches or hotfixes that you get it from the Automatic Update, Microsoft Update website or using the Windows Updates Downloader application, all the files that will be replaced by the patches/hotfixes are first backed up on your hard drive before the installation is proceeded, in case the update causes problem to your Windows. When something worse happens, you can revert your computer into its prior state.
The backup files are stored in your Windows system folder in hidden mode and over time, this backup files will accumulate and use up quite a large size of hard disk space. If an update causes problems to your system, it will usually become apparent soon after receiving the update. So there is no reason for you to keep more than a few weeks old backup files if your computer is working fine after applying the windows patches/hotfixes.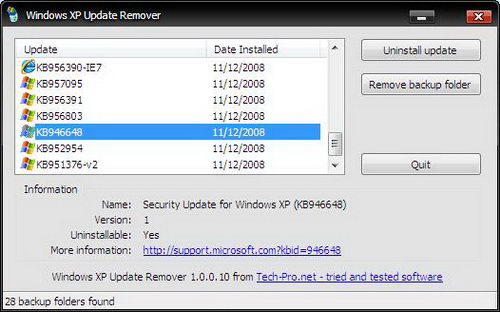 Windows XP Update Remover is a freeware Windows application that allows you to easily remove the $NtUninstall backup folders and associated uninstall information from your computer to free disk space. To use Windows XP Update Remover, you need to run the setup and install the application on your Windows. Once completed, run the program. You will see a list of Windows updates that have been installed on your computer.
You can remove backup folder for a particular windows update by clicking the "Remove Backup Folder" button. To remove all the backup folders, it will take some time because only one backup folder can be remove at a time. It will definitely be good if we can select all the backup folders and remove them in one go.
Download Windows XP Update Remover | 587 KB