Best Free Windows Hardware Drivers Backup Utilities
'
Nothing is more painful than installing hardware drivers after a re-installation of Windows operating system on your computer. Things become more worse if you have misplaced or lost your Driver CD. To find the drivers for hardware installed in your PC or notebook on the internet can be quite difficult. Some of the drivers may be unavailable on the net.
To avoid all these troubles, it's a good idea to backup your Windows hardware drivers. By doing so, you can get all your hardware drivers restored in one go after the re-installation of your Windows. So you don't have to waste time looking for your Driver CD or searching for drivers on the net.
Here is 3 best free Windows hardware drivers backup utilities for quick and easy driver's backup and restoration.
1. Driver Max
Driver Max has a user-friendly and nice user interface. During installation, Driver Max will identify all the hardware on your computer. It lets you to backup, restore and generate reports of installed drivers. Driver Max also allows you to quickly check for updates for your drivers and identify unknown hardware devices on your computer. However, to get access to these two features, driver updates and unknown hardware identification, require you to register with Driver Max. Don't worry, it's free registration! Driver Max is designed to work with Windows Vista, Windows XP and Windows 2003 Sever.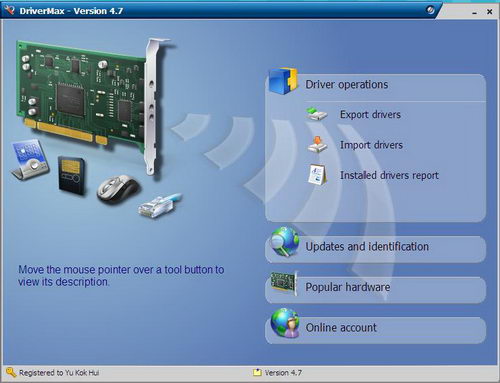 Download Driver Max Now | 2.91 MB
2. Double Driver
Double Driver is another freeware driver backup utility. It lets you to view installed drivers, backup installed drivers and restore backup drivers. You can also save and print drivers details. Double Driver is compatible with Windows 98, Windows 2000, Windows XP and Windows Vista. (More details)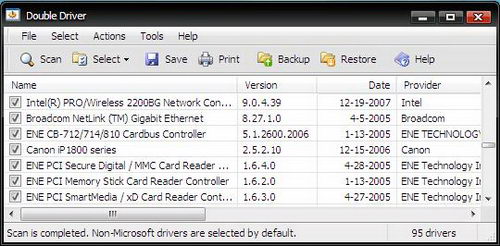 Download Double Driver Now | 1.48 MB
3. Driver Backup! 2
Driver Backup! 2 is a lightweight open source portable driver backup utility that allows you to backup and restore drivers with ease. Unlike the others two utilities mentioned above, since Driver Backup! 2 is portable, there is no installation required to use this utility. Driver Backup! 2 works fine with Windows XP and Windows Vista and is a nice addition to your USB flash drive. This hardware driver backup utility supports command line switches to automate the backup and restoration operations. However, the command line builder is currently only available in Italian language.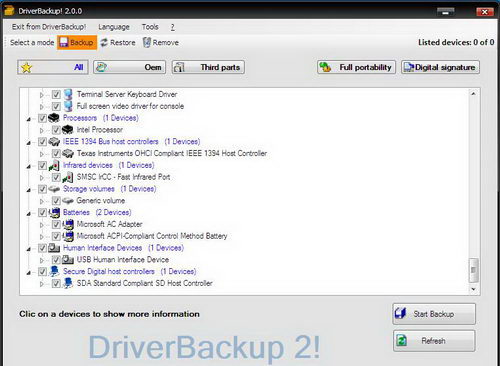 Download Driver Backup! 2 Now | 357 KB
Note : It is suggested to you that before you back up the hardware drivers, make sure you use Windows Device Manager ( Right-click My Computer, click Properties, go to Hardware tab and click the Device Manager button ) to check and confirm that all your drivers are working properly.