WordPress for Android 2.1 Comes with Comment Editing, Post Autosave and More
'
The stable version of WordPress for Android 2.1 is finally here, and is now available for download on your Android devices via Google Play Store.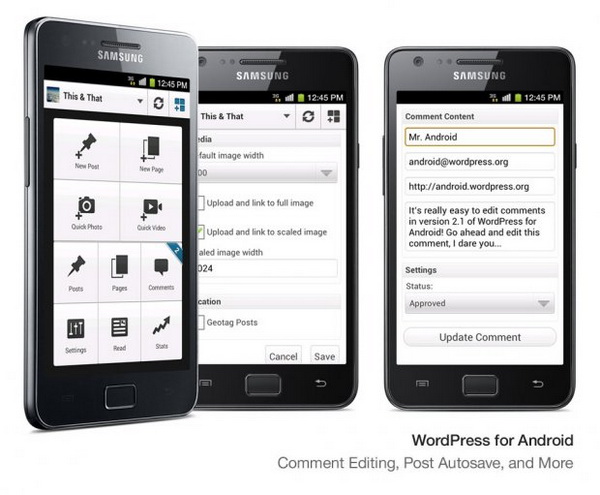 We've mentioned about the new features and improvements of WordPress for Android 2.1 when we first reviewed the beta version last month. But it's no harm to mention them again here. Among the notable features are the ability to edit comments directly from the app and the post autosave feature at which your article is automatically saved every 60 seconds.
Moreover, you can now set the width of the linked image in your article to any size you like. Previously, you can only link to a full size image. To activate the new setting, simply tap "Settings", then tap the "Upload and link to scaled image" checkbox.
The app also comes with an all new WordPress.com reader (the Read option will be available if you have a WordPress.com blog). It's now quicker to navigate between posts, you can add comments to posts and share the post to other Android apps on your Android device.
Other improvements include small updates to the UI, new app icon, reliability improvements, performance tweaks and translation updates.
WordPress for Android 2.1 supports device with Android 2.1 or newer. Also available for Nook, and BlackBerry PlayBook devices.
Download WordPress for Android 2.1
[SOURCE]