Remove All Unwanted Toolbars from Browser with Smart Toolbar Remover
By Steve Yu on October 31, 2009
@steveyu85
'
Does your web browser cluttered with all sort of toolbars? If yes, you should do some cleanup process. You can choose to uninstall the toolbars one by one or get yourself Smart Toolbar Remover.
Smart Toolbar Remover is a lightweight application that allows you to remove unwanted toolbars from your browser window with ease.
Simply run the application after installation. The main window will display the list of installed toolbars on your browser. Just check the box next to each toolbar you want to remove and click the "Uninstall" button to get rid of the toolbars.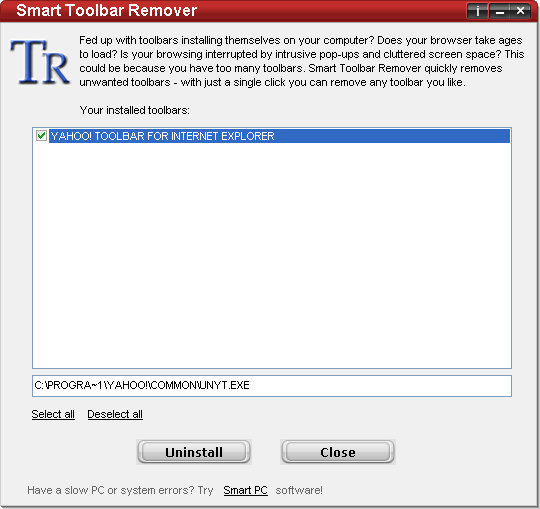 Smart Toolbar Remover is compatible with Windows 2000, XP, Vista and 7.
Download Smart Toolbar Remover
Related
Steve Yu is a technology blogger with ten years blogging experience under his belt. He is the founder of MyTechQuest.com or just MTQ.
Social Count

Windows 10

Latest Articles

Latest Android

Latest Freeware

Find Us on Facebook
Copyright © 2007 - 2017 My Tech Quest. All rights reserved. Powered by Wordpress and Hostgator.