How to Recover Lost Wireless Network Key?
'
Sometime we tend to forget certain things, this may include your hard-guessing wireless network key or Wi-Fi password. To help you recover your forgotten Wi-Fi password, let me introduce you to WirelessKeyView.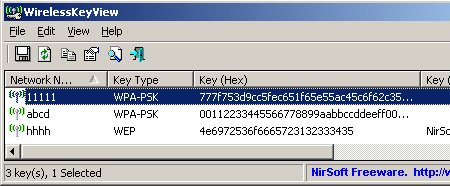 WirelessKeyView is a lightweight Windows application that recovers all wireless network keys ( WEP/WPA ) stored in your computer by the 'Wireless Zero Configuration' service of Windows XP or by the 'WLAN AutoConfig' service of Windows Vista.
This freeware requires no installation. Just extract the executable file (WirelessKeyView.exe) from the archive file, and run it. The main window will displayed all the WEP/WPA keys stored in your computer. That's all! See how easy to recover your Wi-Fi passwords. If you want, you can choose to save all the keys to text/html/xml file. But make sure you save it in secure location.
Download WirelessKeyView Now | 40KB