Completely Uninstall Norton 2013 Products with Norton Removal Tool
'
Symantec has just updated its security software removal tool to version 20.0.0.21. The tiny tool, which is known as Norton Removal Tool, enables you to completely uninstall or remove all the parts of Norton installation including the recently-released Norton 2013 lineup of products, Norton Anti-Virus (2013), Norton Internet Security (2013) and Norton 360.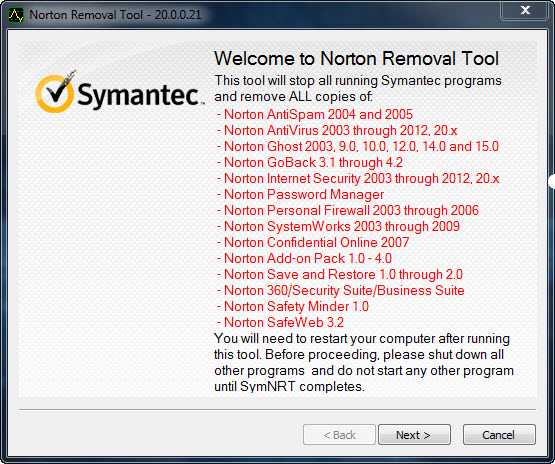 This removal tool enables you to completely uninstall the following products :
Norton AntiSpam 2004 and 2005
Norton AntiVirus 2003 through 2012, 20.x
Norton Ghost version 2003, 9.0, 10.0, 12.0, 14.0 and 15.0
Norton GoBack 3.1 through 4.2
Norton Internet Security 2003 through 2012, 20.x
Norton Password Manager
Norton Personal Firewall 2003 through 2006
Norton SystemWorks 2003 through 2009
Norton Confidential Online 2007
Norton Add-on Pack 1.0 – 4.0
Norton Save and Restore 1.0 through 2.0
Norton 360/Security Suite/Business Suite
Norton Safety Minder 1.0
Norton SafeWeb 3.2
To use, simply run the portable Norton Removal Tool and enter the CAPTCHA code from the picture. The tool will automatically detect the selected Norton products on your system and uninstall them once and for all, without leaving leftover files.
However, consider to use this tool as if it is the only option you have. This removal tool should only be put into work to remove a failed installation or a damaged Norton product, otherwise you can opt for normal uninstallation process.
Norton Removal Tool is portable and is designed to work with Windows 2000, XP, Vista and 7.