Norton Hotspot Privacy Secures Your Internet on Public Wi-Fi Hotspots
'
If you study the recently-released 2012 Norton Cybercrime Report, there is one section that pointed the risky behavior on potentially unsecure Wi-Fi networks.
According to the report, two-thirds of online adults use free or unsecured Wi-Fi networks, and even though many have concerns about the security of those services, more than 40% are still putting sensitive or financial information at risk.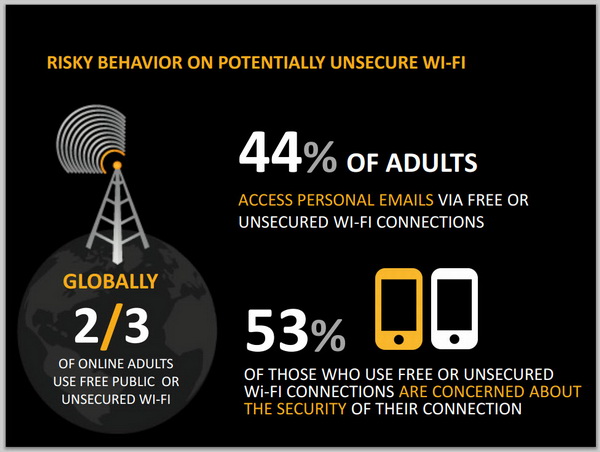 Showing concerns without taking any security measure to protect your sensitive data can spell trouble (or rather disaster) when hackers decide to hijack the free and unsecured Wi-Fi connection. You must be surprised to learn that using free, legal apps or hardware costing less than $100, hackers can gain access to online banking, email and social networking information transmitted via even password-protected Wi-Fi networks.
Are you worry now?  I bet you are! So what should you do to secure your connection on public Wi-Fi network? Introducing Norton Hotspot Privacy!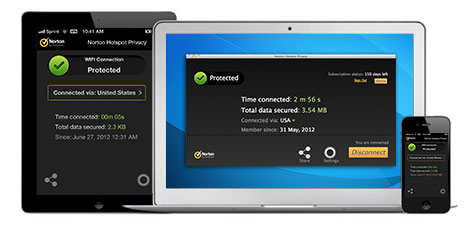 Two days back, Norton by Symantec launched a new service called the Norton Hotspot Privacy. The service, now available in the U.S. and U.K. for Mac and PC, helps protect consumers using public Wi-Fi networks by automatically creates a private and secure connection.
The private connection or known as virtual private network (VPN) allows users to control what they share online and enjoy anonymous browsing while on the internet. Sensitive information like username, password, credit card details among others are encrypted. And this should keep hackers or eavesdroppers at bay.
Key features of Norton Hotspot Privacy :
• Creating a secure, private connection that cannot be seen by eavesdropping software
• Making the user "invisible" on public networks, so no one can track or monitor their online activities
• Protecting the user's entire Wi-Fi session when surfing the Web
• Encrypting the user's connection, so usernames, passwords, credit card numbers and other confidential information remain safe
• Providing the user with unlimited bandwidth on up to five devices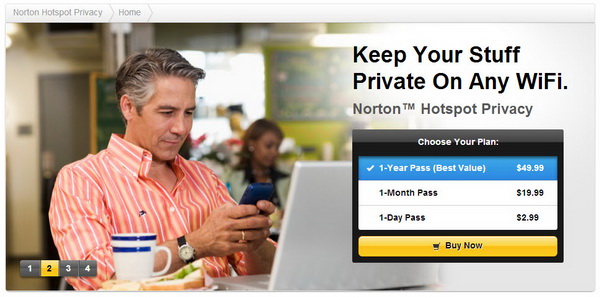 Interested consumers can sign into the Norton Hotspot Privacy Web portal, download the client and the VPN will automatically configure to create a private connection. However, Norton Hotspot Privacy is not provided for free. In fact, it comes with three plans – one-day pass at $2.99, $19.99 for one month pass and to enjoy one year of full protection, it will cost you $49.99.