How to Add a Floating Twitter "Follow Me" Badge on WordPress Blog?
'
I've joined Twitter since January last year but I didn't care much about getting people to follow my Twitter (and I didn't follow other people either), not until recently. Now, I am trying to follow interesting people on Twitter and in the mean time, try to get my readers (Yes, you!) to follow me on Twitter. As you can see, I've put a large "Follow Me on Twitter" badge at the bottom of my every single blog post. Somehow, I think that placing the badge at the bottom isn't a good idea. It can easily go unnoticed by some of my readers. Moreover, I don't see the badge on my front page.

That's why I've decided to add another Twitter "Follow Me" badge, now at the right side of my blog, it's actually a floating Twitter "Follow Me" badge. By doing so, this badge is more visible to the readers and hopefully can increase the number of followers on my Twitter.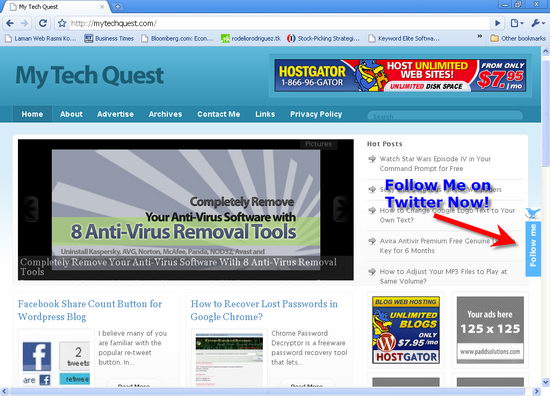 How can you add the floating Twitter "Follow Me" badge on your blog too? Try WP FollowMe!
WP FollowMe is a plugin for WordPress that lets you to add a floating Twitter "Follow Me" badge on WordPress blog. Using this plugin, you can :
change the color of the badge
change the follow me label (Follow me or Follow us)
change the position of the badge (left side or right side and the distance from top)
After the plugin is activated, go to WP FollowMe Settings page. In the settings page, enter your Twitter account and configure the other options as desire. Done!