ASUS MeMO Pad ME172V Review
'
ASUS MeMO Pad ME172V Review – The budget-friendly 7-inch Android tablet has been around in Malaysia since the end of January for a price tag of RM 499. At a price under RM 500, the tablet is really a steal and is easily one of the best quality branded-tablet that the market has to offer right now. Recently, we got our hands on a loan unit of MeMO Pad. Yes, thanks to ASUS Malaysia for loaning us the tablet for reviewing purpose.
In this article, we are going to look in-depth (sort of) at this tablet – on its design, build quality, hardware, notable features, battery life as well as the device performance while running apps and games. However, don't give high expectation to MeMO Pad as the tablet is just an entry-level and the cheapest Android tablet produced by the Taiwanese company.
Design and Hardware
Despite being an entry-level Android tablet, the MeMO Pad does not look like a "cheap" tablet at all, although it's mainly made of plastic. ASUS has a good track record of producing great quality and well-designed devices. The MeMO Pad is no exception. The design of the MeMO Pad is inspired by ASUS-built Google Nexus 7. Take a look at the back panel and you should notice the similar textured design between the MeMO Pad and Nexus 7. The diamond checkered finish ensures a good secure grip on the tablet and somehow gives a premium (plus solid) look and feel to the tablet, even though it's not as premium as the Nexus 7.
The MeMO Pad is measuring at 11.2 x 119.4 x 196.4 mm and weighs at 370 grams. When you compared the tablet with Nexus 7, the MeMO Pad is slightly thicker than the latter and it is heavier too (by 30 grams).
The power button and volume controls are located on the top left. A 3.5 mm audio jack at the top while on the bottom, you should find a microUSB and microSD slot. The microSD card slot lets you expand the storage for up to 32GB. FYI, Nexus 7 doesn't offer such slot.
There is a 1MP front-facing camera capable of recording 720p video on its front. Meanwhile, the speaker resides on the back and comes with ASUS-exclusive SonicMaster-enhanced audio. We are pretty much satisfied with the audio quality produced by the speaker. During our test, we can hear the song playback loud and clear. Thumb up on the audio quality.
Display
ASUS MeMO Pad has a 7-inch WSVGA display with 1024 x 600 resolution at 169 ppi (pixels per inch) and 350 nits brightness. The ppi is no match to Nexus 7 (216 ppi) but still win the Apple iPad Mini (163 ppi). MeMO Pad produces decent display with a rather limited viewing angle of 140 degrees. Nexus 7 has 1280 x 800 resolution with a 178-degree wide-viewing angle.
Reading texts and emails, view images, watch movies and even play games on MeMO Pad is not that a pleasant one. The texts and images are not very crisp and clear. The tablet also produces decent colour gamut and accuracy. Anyhow, note that MeMO Pad is just an entry-level tablet.
Software
MeMO Pad runs Android 4.1 Jelly Bean and has full access to Google Play Store for downloading apps and games. Google Play Music, Books, Magazines and Movies are not available yet to users in our country.
The tablet is preloaded with a suite of ASUS productivity apps, including SuperNote Lite note taking app, BuddyBuzz social media manager, ASUS WebStorage (provides 5GB free cloud storage), AudioWizard audio profile manager, ASUS Story, ASUS Studio photo editing app, MyPainter drawing app and WebStorage Office.
In addition to that, there are floating apps for multitasking. Floating apps are displayed on-top of your current running application for quick access. Some default floating apps include AudioWizard, Browser, BuddyBuzz, Calendar, Calculator and Stopwatch. To access floating apps, simply tap on the right-most icon on the navigation bar (next to recent screens icon).
The video below showcases some of the preinstalled apps on MeMO Pad.
[youtube id="UtpNOSWuUfk" width="600″ height="338″]
Performance and Battery Life
ASUS MeMO Pad is powered by a single-core VIA WM8950 1GHz Mali 400 CPU with 8GB of internal memory (16GB model is not available) and 1GB of RAM. There is a microSD card slot to expand the storage by up to 32GB. In addition to that, you get additional 5GB life-time ASUS WebStorage. The tablet only offers 802.11b/g/n Wi-Fi connectivity, lacking on 3G and Bluetooth.
With a slower but still acceptable processor and 1GB worth of memory, we can handle games (except high graphic games) and apps quite well on MeMO Pad. The size of RAM is deem sufficient to give you a good gaming experience on the tablet. We've played a bunch of decent graphic games on MeMO Pad like Temple Run 2, Subway Surfers and Candy Crush Saga, with minor lag issues. Tablet input works well and is fairly responsive too. However, you shall notice slower launching of apps on MeMO Pad as compared to other higher-end tablets. Also, switching between portrait and landscape orientations takes a longer time than usual.
We ran a benchmark test on MeMO Pad using the AnTuTu Benchmark app. The tablet scored a total of 4083 points, among the lowest in ranking for Android tablet category. Google Nexus 7 has a score of 12726 while Amazon Kindle Fire around 4500 points.
As for battery life, the tablet comes with a 4270 mAh battery, enough to provide the tablet a close to 7 hours of battery life.
Conclusion
If you are tight on budget, the ASUS MeMO Pad is one of the best value-for-money Android tablet. On the good side, the tablet offers good build quality, nice audio output, bunch of pre-installed ASUS apps, sufficient battery life and the ability to expand the storage size via micoSD card. Meanwhile some of cons include poor screen display with limited viewing angle, lack of 3G and Bluetooth connectivity and slower processor. If you can compromise on the display and processor, feel good to bring the MeMO Pad home. It costs only RM 499 apiece.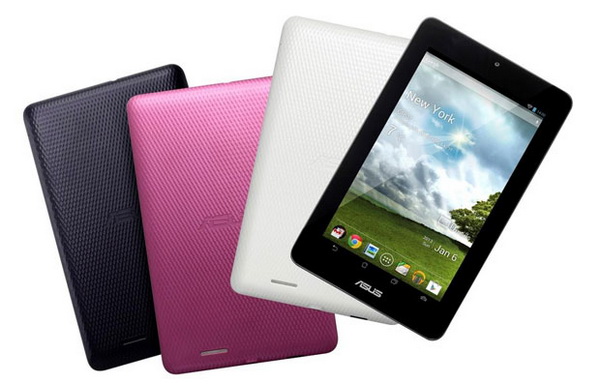 MeMO Pad is available in three colours – Sugar White, Titanium Gray and Cherry Pink. For extra protection, you can dress up MeMO Pad with a snap-on cover, known as Spectrum Cover. It comes in multiple colours, including black, red, white and blue, selling for RM 109 each (inclusive of screen protector).