My First Google Adsense Cheque… Finally!
'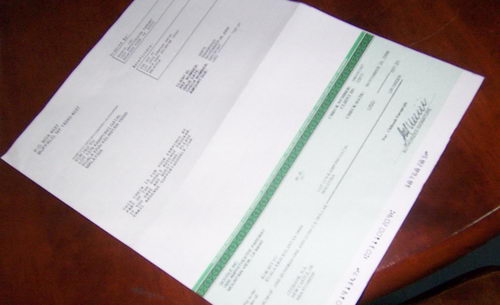 I have been waiting for so long time for this moment. Well, I've registered with Google Adsense one and half year ago and finally, I am holding my first Google Adsense Cheque. One and a half year is such a long time to break the USD 100 minimum payout figure. 
Many people say that making the first buckle of gold or one million one hundred is hardest of all. Well, that's true for me and many people. I started serving Google Adsense ads on my first blogspot blog on mid last year. A few months later, my Google Adsense account nearly got banned because of clicks fraud. I was lucky that time. Google just warned me and stopped ads serving on my blog. Well, I've learnt my lesson.
Later, I abandoned my blog for good. But it didn't take me long to start a new blog. This time it was just a personal blog and I wanted to forget all about money making online. I thought I can forget about it but I couldn't. So I continued serving Google ads on my blog. Later, I switched niche from a personal blog to technology blog and named it as Steve's Tech Blog. On March 24 this year, I have successfully migrated my blog from Blogspot to WordPress platform. My blog get a new name, My Tech Quest.
I never look back after switching to WordPress although at first, I have difficulty to learn blogging with WordPress. Sorry to blogspot users, I have to admit that WordPress is a better (and the best) blogging tool. Over 90% of the amount from my first Google Adsense cheque was made through this blog. So, that is a short story of my blogging and making money online journey so far. For my second cashout which will be very soon, I am going to use Western Union.
Q : So how long did it take you to receive your first Google Adsense cheque?