Steve's Tech Blog 2.0
'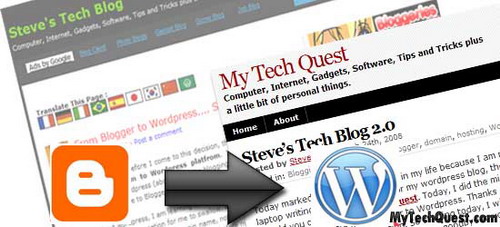 Welcome to My Tech Quest aka Steve's Tech Blog version 2.0!
Today marked as an important day in my life because I am now sitting in front of my laptop writing the very first post for my wordpress blog, the Steve's Tech Blog 2.0 or should you called it as My Tech Quest. Today, I did the migration of my previous blog posts and comments from Blogger to WordPress. Thanks god no difficulty happened in between the process of migration. So starting today, I will no longer be using Blogger platform anyone for the rest of my life! So goodbye to you, Blogger and welcome ,Wordpress!
I bought an one-year basic web hosting plan at Lunarpages on last Friday at a discounted price . I paid USD 67.40, instead of USD 95.40, thanks to the promo code I found from googling. I really want to go for 2-years but I have a tight pocket. And also plus the USD 14.90 for the 2-years domain name that I bought at Godaddy. So in total, I have spent over RM 250 ( in Ringgit ) for the domain and web hosting.
Now I really know why people say Blogger users are lazy because the process of setting up a Blogger blog doesn't require much work than WordPress. Don't you think? At the time of writing, I am still has a lot of tweaking to do on this blog. So, I am sorry if this blog looks ugly at this moment. Later, it will get better I promise.
P.S. : My advice to all the Blogger users out there, get yourselves a self-hosted blog or you will regret!