Malaysia International Tourism Bloggers Conference and Awards 2012
'
You probably know about the DiGi WWWOW Awards 2012. It's the second edition of the Malaysia's 1st and only Internet For All awards to celebrate the best Malaysia-made talents on the internet. We are nominated for the Fave Tech Head and currently sitting at the fourth place. Yes, keep the votes coming everyday until May 13, 2012. Thank you!

Now, do you aware that there is another (but lesser known) blog awards going around too? It's the Malaysia International Tourism Bloggers Conference and Awards 2012 (MITBCA 2012), organized by the ministry of Tourism. There are 16 award categories for grab.
According to the official site,
The tourism bloggers awards are designed for individuals, travel and tourism companies and organizations related to tourism and highlight their achievement in the social media space with respect to tourism.

International blogger nominees should be travel bloggers who blog about tourism, tourist spots and also share Malaysia in some way or the other.
I came to know about this blog awards the other day I was blog surfing at Liewcf.com. It was April 24, also the last day for nominations. Although we are not a pure tourism blogger, somehow we feel that we deserved a chance to enter MITBCA 2012 because every now and since, we do mentioned about Malaysia in term of technology as well as talking about the mobile scene here. Okay, there is one tourism-related post on our blog – Four Great Gadgets for Travelers. It was written by a guest blogger though.
Without any hesitation, we submitted our entry half an hour before the clock struck 12 midnight. Luckily, our blog has been approved by the organizer to compete for the Malaysia International Tourism Technology Blog. And despite the late submission (voting began on April 16), My Tech Quest is now sitting at the top spot for the award and is among the top potential to grab the award that we are competing for.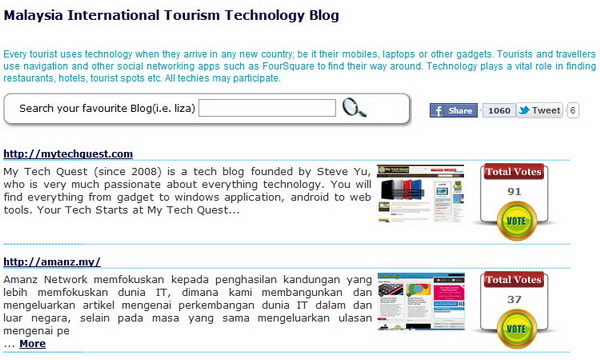 The judging criteria is based on 80% public voting and 20% on judges' decision. You can say that the blog that receives that most votes will be the eventual winner, in case our blog with 91 votes thus far. But we don't want to sound too confident as the closing date for voting is another two days more.
So here, we would like to ask your favor again (first for the DiGi WWWOW Awards 2012, now this award) to vote for our blog. You just don't know how grateful we are for every vote that we've received. Thank you for those who have voted. If you haven't cast your vote, please do so before or on May 1. Note that you need Facebook account to cast your vote.
By the way, there will be a 2 days Tourism Bloggers conference on 8 – 9 May, 2012 at Seri Pacific Hotel, Kuala Lumpur. You can view the conference agenda and have a peek on the speakers here. It's free to register yourself for the conference. There's 200 registrations left for grab at the time of writing. Hurry up and grab your spot now!