DiGi WWWOW Internet For All Awards is Back, More Than RM 200K in Prizes to be Won!
'
Malaysia's 1st and only Internet For All awards, the DiGi WWWOW Awards is back for the second year running with new partners, new categories and more than RM200,000 in prizes to be won! Are you excited? Okay, read on to find out how to submit your entry today!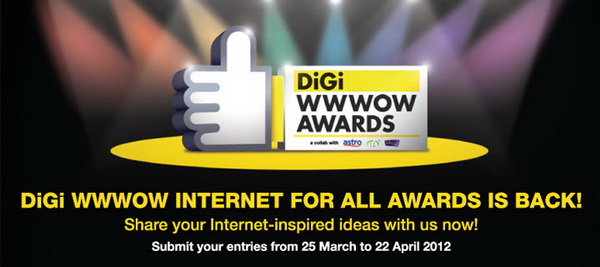 FYI, the awards are meant to celebrate and recognize Malaysia-made top talents (include bloggers, mobile filmmakers, appmakers, webpreneurs and more) who are making impacts across all different fields of online innovation : blogs, videos, shops, charities, start-ups, techies, events, music, apps, and much more.
This is the redesigned official page of the DiGi WWWOW Internet For All Awards 2012. Go here to check out how this page looked last year.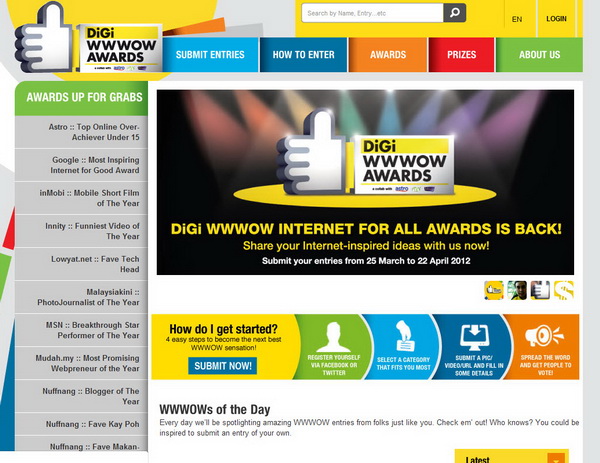 There are altogether 16 award categories for the DiGi WWWOW Internet For All Awards including the return of Lowyat.NET Fave Tech Head award (the award that I wish I could win this year). You can check out here for all the award categories as well as their exciting prizes.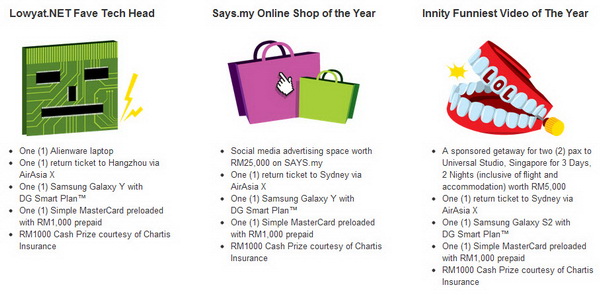 Each of these awards are accompanied with prizes in the form of cash, flight tickets, smart devices, pre-loaded debit cards and many more, with all the prizes totaling at over RM 200,000!

The submission stage has already started since March 25 and will end on April 22, 2012. If you think you have what's take, then wait no more, submit your entry today. To do so, simply go to the submission page, then register yourself using Facebook/Twitter ID, select the category that best suits your blog and fill in your details. Once you're done with the submission, next step is to get people to vote for your site.
However, the voting period will only start on April 23, until May 13, 2012. During this period, you need to get as many as people to cast their votes on your entry. The entries from each category (except the Best of the Best) with the highest number of votes will be short-listed. Then, the winners will be decided by the judges and announced in the WWWOW Awards Finale on June 9, 2012.