TuneUp Utilities 2008 Full Version with Free Genuine Serial Key
'
TuneUp Utilities 2008 is a complete tuning solution for your PC. With this complete Windows optimization package, your system will be faster, more comfortable and more secure. All important aspects of system configuration, security, cleanup and maintenance can be accessed through a modern graphical interface.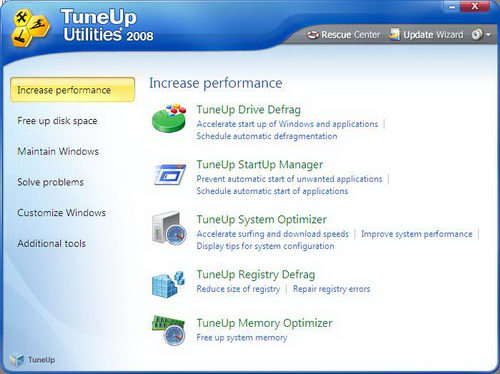 Main features of TuneUp Utilites 2008 include:
TuneUp Start page – Intuitive Layout, Easy to Use
TuneUp Speed Optimizer – Intelligent, Powerful Utility for any User Skill Level
TuneUp 1-Click Maintenance – Automatic, Fast Optimization
TuneUp Drive Defrag – Intelligent defragmentation with new progress display
TuneUp System Control – Supports Opera
TuneUp Uninstall Manager – Intuitive uninstall options
TuneUp Startup Manager – Increases the speed at the start-up of your PC
TuneUp Styler – Expanded PC style options for Windows Vista (32/64 Bit)
TuneUp Registry Cleaner – Powerful tool with in-depth view of your PC registry
TuneUp Utilities 2008 is an older version of this popular Windows optimization application suite. The latest version of TuneUp Utilities 2009 is worth USD$ 49 per license.
Now, chip.de is giving away free copies of TuneUp Utilities 2008 with fully working license key serial code. If you are using TuneUp Utilites 2007 (from the last time offer), now it is your chance to upgrade to the 2008 version.
The installer for TuneUp Utilities 2008 can be downloaded from here. After installation, you are required to use this license key serial code : RFEAH-CDXKX-UMFBW-GSCES-YFWCM-WUHWB to upgrade this product from free trial to fully functional software.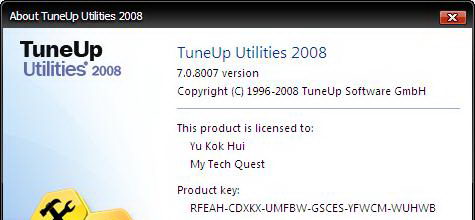 TuneUp Utilities 2008 is working fine with all version of Windows.