Bing Desktop Automatically Sets Bing Homepage Image as Desktop Wallpaper in Windows 7
'
Want your desktop to look fresh with the latest wallpaper appears on Bing homepage? Try Bing Desktop beta.
Bing Desktop Beta is a small application for Windows 7 that provides an easily accessible Bing search box in your desktop, in which it enables you to run the Microsoft's search engine without the need to open the browser. Moreover, it also allows you to automatically set your Windows desktop background with the Bing homepage's wallpaper. The wallpaper is updated on daily basis. Meaning that, there is new wallpaper everyday for your desktop!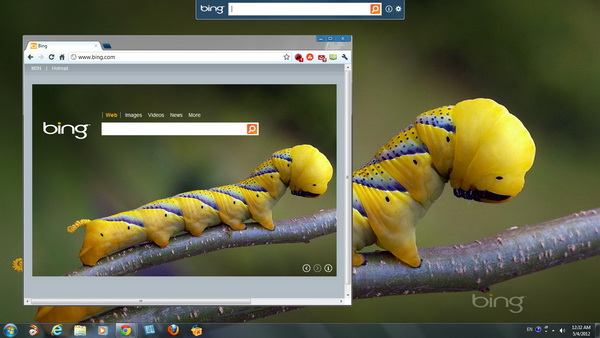 There are a few options that you can configure in the application. By default, the Bing Desktop will run at Windows startup. You can pin the Bing search box to the top or to the centre of the screen. On top of that, you can call up the application using keyboard shortcut. The keyboard shortcut is Win+H.
Bing Desktop Beta is compatible with Windows 7 only.
Download Bing Desktop Beta
Download Bing Desktop (Also works with Windows 8.1/8)