Animated Christmas Trees for Windows Desktop
'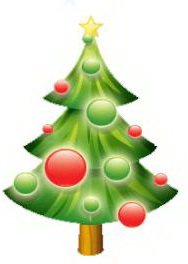 Christmas desktop wallpapers, icons and screensavers are some of the very common things that you will come across while decorating your desktop for the festive season. How about adding a fresh touch to your desktop? Something like Christmas trees?
Yes, adding animated Christmas trees on your desktop is a great idea. There are nine choices of free Christmas trees for your desktop. The Christmas trees require no installation. Just run the executable file from the zip archive to bring the Christmas trees to your desktop.
The trees are always on top by default. The settings can be configured by right-clicking on the tree. You can adjust the transparency of the tree as well. If one Christmas tree doesn't look enough for you, feel free to add more trees. Right-click a tree and click "Add Xmas Tree".