Free Animated Christmas Emoticon Packs for MSN and Windows Live Messenger
'
Looking for some fresh Christmas emoticons for your MSN and Windows Live Messenger this holiday season? Well, here are two set of cute and lovely Christmas emoticon packs that are just right for your favorite instant messenger.
Christmas Emoticons

This Christmas emoticon pack contains a set of 24 animated emoticons for your messenger. It includes Santa emoticons, gifts, presents, smileys, elves and more. This animated Christmas emoticons come with an auto-installer. After download, you just need to run the installer and the emoticons will be automatically added to your messenger.
Download Christmas Emoticons Installer | 2.4 MB
Xmas Emoticon Pack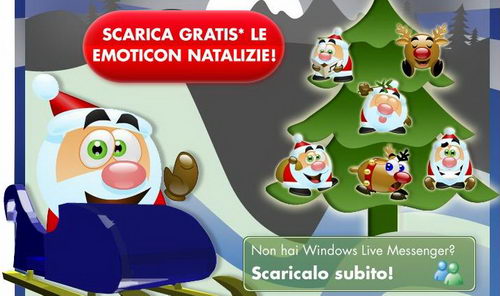 This Xmas emoticon pack contains a set of 10 animated emoticons of Santa and Rudolph and they have bundled into an auto-installer. The emoticon pack is made available by MSN Italy. The link below will bring you to a download page. However, the page is not in English. But don't worry. You can still download the Xmas emoticon pack without knowing Italian language. On the download page, click on the "Scarica Gratis Le Emoticon Natalizie" button to download the emoticon installer. After download, run the executable and click "Avanti". On the next screen, uncheck the 2 boxes if you don't want to change your default search & browser's home page, then click "Accetto" to install.