Find Free Stuff on Twitter with Freezly
'
Do you read tons of blogs and web sites just to catch up on the hottest giveaways out there? Or do you follow as many Twitter users as you can to find out information about new giveaways in their tweets? You just love free stuff, aren't you? (Me too.) Well, try Freezly! It will save you a whole lot of time.
Freezly is a new web service that helps you to find the hottest free stuff and giveaways that people are tweeting on Twitter. This cool web service has an automated system that can identify giveaways, filter out soliciting content, and display the giveaways in a fashionable manner.
On the main page, you are shown with a list of the newest giveaways. Click on the Hottest link to find out about the popular giveaways.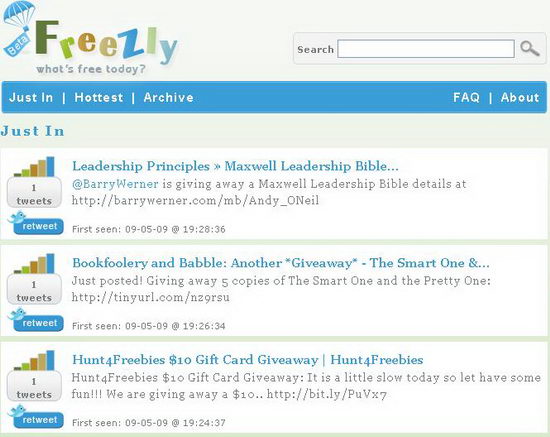 Now, with Freezly around, you don't have to follow tons of Twitter users just to find out about giveaways. 🙂