'

Google Chrome has a cool feature that allows users to perform Google Search directly from the address bar. Every time you want to launch a Google Search, you just need to type in a word or phrase into the address bar and hit enter. To turn your address bar into a Google search box in Firefox, here is what you need to do.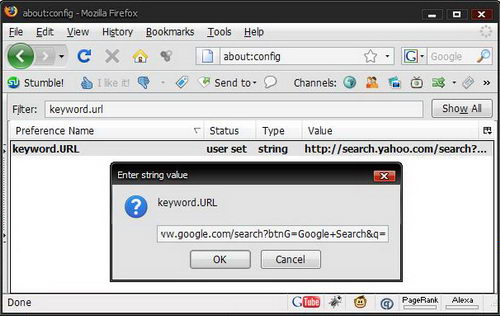 In this method, you need to tweak the Firefox about:config setting in order for you to perform a regular Google Search from the address bar in Firefox.
In the Firefox's address bar, type in about:config
On the filter box, type keyword.URL
Now, modify the string value and replace it with : http://www.google.com/search?btnG=Google+Search&q=
Click OK and finish!
Related
Steve Yu is a technology blogger with ten years blogging experience under his belt. He is the founder of MyTechQuest.com or just MTQ.
Social Count

Android

Latest Articles

Latest Windows 10

Latest Freeware

Find Us on Facebook
Copyright © 2007 - 2017 My Tech Quest. All rights reserved. Powered by Wordpress and Hostgator.