Download Full Version Avanquest MyLogoMaker 2.0 with Free License Key
'
To design a good (or perhaps professional) looking logo for your blog, business or company can be very difficult and time consuming if you don't have the right tool. MyLogoMaker 2.0 from Avanquest is just the right tool to help you easily design your own logo.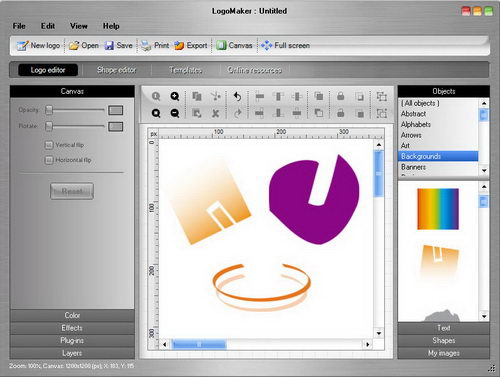 With over 500 professionally designed templates, 2,500 shapes, 10,000 fonts, and 6 million photos and images, MyLogoMaker makes it easy to create high-impact, premium quality logos for any business.
Here are the main features of MyLogoMaker 2.0 :
500 professionally designed templates
2,500 customizable shapes & objects
Shape Editor to create and customize your own shapes
10,000 fonts
6 million photos & images
30 object & text editing effects: shadow, transparency, blur, gradient, 3D, reflections, mirrored
Easy-to-use interface to edit your objects & text
Object & text scaling, rotation and aligning
Regular, polygonal, concave, wavy, regular, outline & projective text
Advanced alignment tools
Image adjustment tools: emboss, invert, grayscale
Complete layer control
Solid color, transparent and shaped background
Professional color palette: 70 CMYK palettes, 70 RGB palettes, custom color and gradients
This logo maker application normally costs $29.95 per copy. But now you can grab yourself this full commercial version of MyLogoMaker 2.0 absolutely free. Avanquest is currently running a great promotion that gives away free copies of MyLogoMaker 2.0.
To download full version of MyLogoMaker 2.0 with free license key, you simply need to visit this promotion page at
http://register.avanquest.com/ABSOFT/produits/Promotion/enregistrement_presse/register_cov_gd.cfm?idcgd=436
On the promotion page, click the "Register" button to go to next page.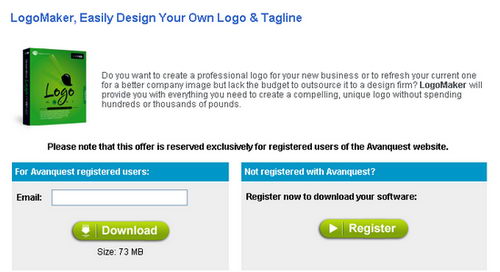 On this page, you are required to fill in your details in the registration form. Email address, name and surname are mandatory. Once finished, press the "Proceed and receive your serial codes" button.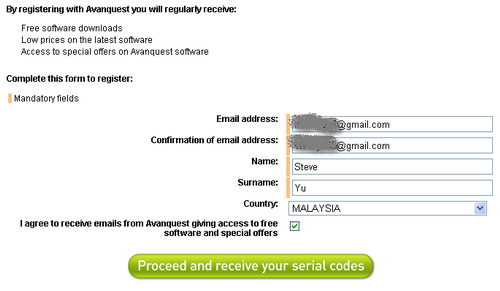 Next, you will be prompted with the download link to download the free MyLogoMaker 2.0.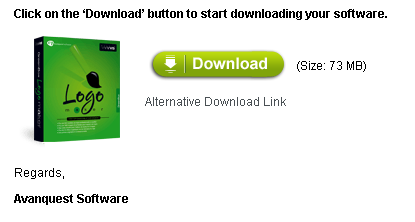 MyLogoMaker 2.0 is compatible with Windows 98, 2000, ME, XP and Vista. Thanks, Joel!