[Christmas Freebie 2011] Amazon.com 25 Days of Free Christmas Songs
By Steve Yu on December 1, 2011
@steveyu85
'
The 25 Days of Free MP3 Christmas Songs download is back again at Amazon.com to set you in the mood for Christmas 2011. 🙂
Every day, starting December 1 (which is today) through Christmas, a new holiday song will be available as free download for a limited time. So check back daily to download the newly available free Christmas song. On the Christmas day, you should have a total of 25 free Christmas songs on your playlist.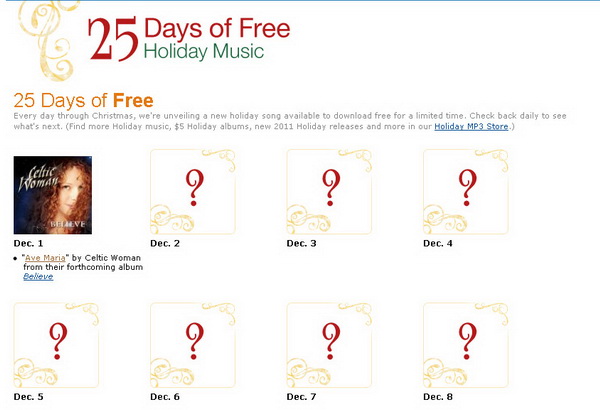 Visit this page to download and enjoy the 25 Days of Free Christmas Songs. (Link no longer available)
Note that the MP3 Downloads is currently available only to US customers located in the United States.
Related
Steve Yu is a technology blogger with ten years blogging experience under his belt. He is the founder of MyTechQuest.com or just MTQ.
Social Count

Android

Latest Articles

Latest Windows 10

Latest Freeware

Find Us on Facebook
Copyright © 2007 - 2017 My Tech Quest. All rights reserved. Powered by Wordpress and Hostgator.