The Best Technology Blog on The Net
'
Do you know which blog is the current Number 1 tech blog on the net? Come on, make a guess. Engadget? No! Gizmodo? No! Techcrunch? No! Okay, stop making guesses. Now, try google for the term "Best Technology Blog" and the search result will be similar as the screenshot below.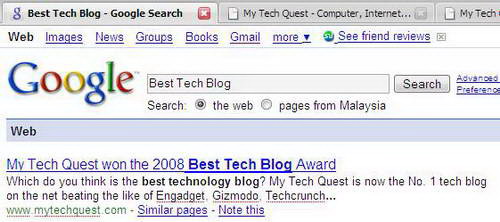 My Tech Quest – The Number 1 Tech Blog!
Gosh, that's my blog, My Tech Quest. Can't believe that my blog is the best technology blog , beating the popular tech blog like Engadget, Gizmodo, Techcrunch and others tech sites! LOL! Okay, I'm just bluffing. Actually, I used a javascript hack to trick you guy which I learned from Rockstar Sid.
With this hack, you can edit any webpages on your web browser. Although this hack may not be useful at all to you, but it's fun to play with especially to trick people. If you feel like trying, here is how you can to do same as I did.
Browse any web page of your choice.
Enter the following code in your browser's address bar and hit enter.

javascript:document.body.contentEditable='true'; document.designMode='on'; void 0

Now, you edit the Web page contents. Simple as that.
P.S. : Even though it may sound impossible, I hope My Tech Quest can become the best tech blog in Malaysia one day.