Pulse News 2.0 App for Android and iOS
'
Alphonso Labs Inc. has released the newest version of their Pulse news reading application to the Android Market as well as to the Apple's App Store. Although the release was made public about a month ago, but it's still worth a mention here. 🙂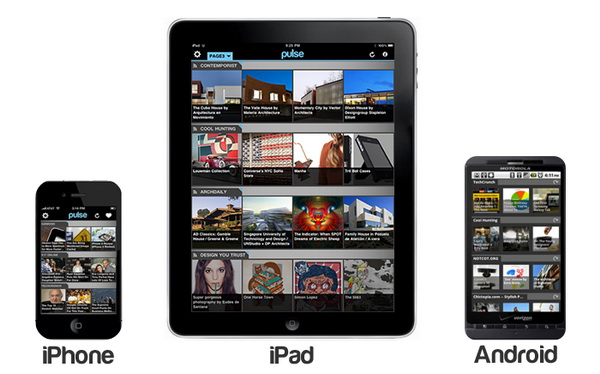 The new Pulse News 2.0 app is now faster, more comprehensive and more social than ever before. The app combines enhanced performance, new content sources and improved sharing with social feeds and news discovery features.
FYI, Pulse News Reader is a one-of-a-kind RSS reader that delivers articles from blogs and webpages in a visually rich magazine-inspired layout, rather in an usual and boring plain text. The application pulls in articles from RSS feeds, then take images from the articles to display alongside with headlines.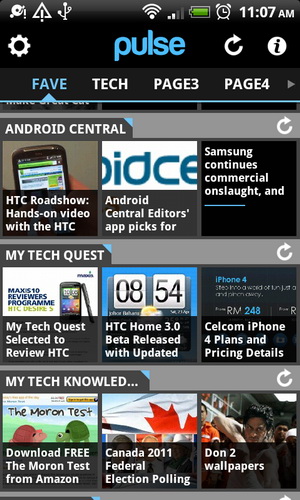 Your feeds are separated by tabs. You can scroll vertically (up and down) to go through your list of feeds, and horizontally (side by side) to go through the articles within each feed.
Simply tap on an article, and you will see a clean and elegant view of the article. All the articles can be easily shared to friends via email, Facebook or Twitter.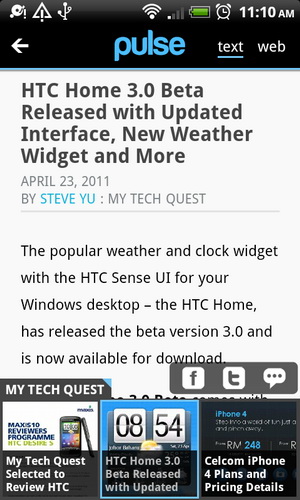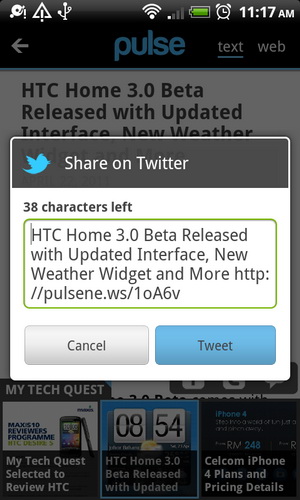 Moreover, it is easy to add feeds and also search sites easily using keywords. Pulse provides you a list of popular websites from various categories including Android, Technology, Sports, Gaming and more.  The Social category enables you to add social content from Digg, Flickr, PicPlz, Reddit, Vimeo, Youtube and Facebook.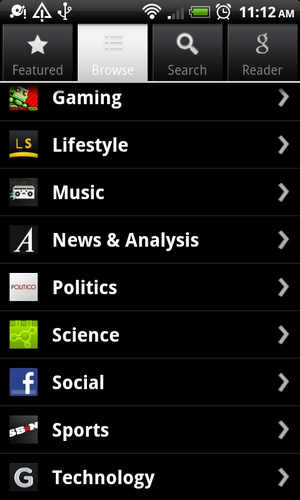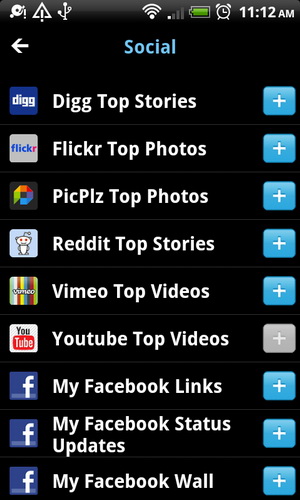 New features for Pulse News Reader 2.0 :
Three Times More Sources, with up to 60 news sources across five customizable pages (compared to the previously available 20). Moving sources between pages is as easy as drag and drop.
Personalized News, where you can select a "pack" to auto-populate an entire page with the top sources for politics, finance, sports and more.
More Social News, now with social content from Facebook, YouTube, Vimeo, Digg, Reddit and Hacker News is available on every platform. You can now like, share and comment on items in your Facebook newsfeed from within Pulse.
Improved Sharing Tools, with integration of Facebook, Twitter and email sharing contextually within each story.
Enhanced Search, with search results now included our most popular newsfeeds with more relevant titles and descriptions.
Three Times the Speed, with sources update and images now load faster, and scrolling is smoother and more fluid.
Improved Google Reader, with the ability to save stories read offline and syncs them to Google Reader when the app is online later.
Pulse News Reader 2.0 is available as free download for both Android (via Android Market) and iOS (via Apple's App Store : iPhone and iPad).