Digi Opens Registration of Interest for White Apple iPhone 4
'
The long-delayed white Apple iPhone 4 will go on sale soon in Malaysia as DiGi has opened up their registration of interest page for the white iPhone 4.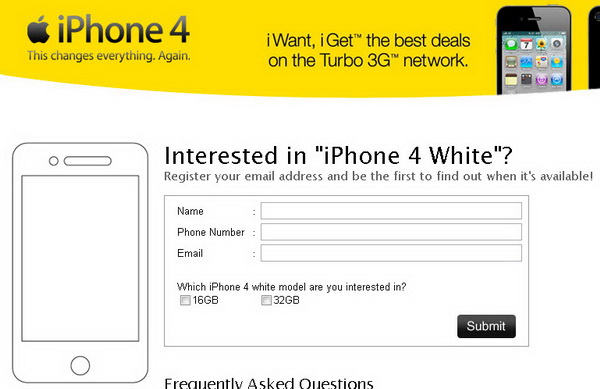 The iPhone 4 was first launched on June last year, now ten months after the release, only comes the white iPhone 4. Honestly, Apple is quite late at releasing the white version of the iPhone 4 as iPhone 4 is reaching the end of the product cycle. Every new version of iPhone will be announced at every one year cycle.
If Apple is to follow the product cycle, then iPhone 5 should be released on June this year. But rumors said the iPhone 5 launch may be delayed until September this year or maybe next year.
Anyway, for white iPhone 4 lovers (who don't really care about what iPhone 5 has to offer), please hop on to the White iPhone 4 Registration of Interest page at DiGi. Package and pricing details has yet to be revealed.