Whip Social Photo Album App for iPad, Android and Windows 8
By Steve Yu on January 8, 2013
@steveyu85
'
This is a Sponsored post written by me on behalf of Arcsoft for SocialSpark. All opinions are 100% mine.
Ever heard of photo book? It's a new concept printed photo album with a book cover. The content of a photo book comprises a collection of photos that you edit and arrange in a meaningful way using a photo book software. The photo book is for people who want a new, creative way to tell stories through their photos. Everyone has stories to tell, right? You create custom photo books to document momentous occasions as if they are story books that bring your stories to life. 🙂

If you enjoy the concept of photo book, then you will love Whip Social Album too! Whip is a social photo album sharing application that enables you create and share a personalized photo album in just a few taps on your Apple iPad. The app is free to use, other than free iPad app, Whip is also available for Android and Windows 8.
Unlike other mobile photo sharing apps that only allow you to apply effect or filter to single photo and upload it to social networking site, Whip gives you the ability to create a personalized and vibrant photo album. Instead of working with a single photo at a time, using Whip app, you can quickly and effortlessly blend multiple digital photos, video, music, words (or captions) together and walla, you get yourself a beautiful looking photo album. Yes, this is what differentiate Whip from many other mobile photo sharing apps.
How to Use Whip?
You can create or whip out an album in three easy steps : select photos and video, customize, and share. The photos and video are not limited from those captured from your camera roll, you can get your source of photos and video from Photo Stream or Facebook. You can add up to 24 photos and a video for each photo album.
Next, customize your album or Whips by choosing your desired template for each album page, then arrange the photos and video in the page. You can easily resize, rotate and swap around photos on a page. There's one-touch enhancement tool to ensure your photos are picture-perfect. Moreover, you can add captions to album cover or individual pages to spice up your Whips. And don't forget to add tune to the album from the app's "indie" library.
When you're done, it's time to share your Whips to the world. You can share them via Twitter, push them to Facebook, email the Whips straight from the app or post it on WhipStream – Whip's own community-made Whips. The app gives you a real album experience – you can auto-play Whips for a slideshow or swipe to flip the pages at your own pace, magazine- style.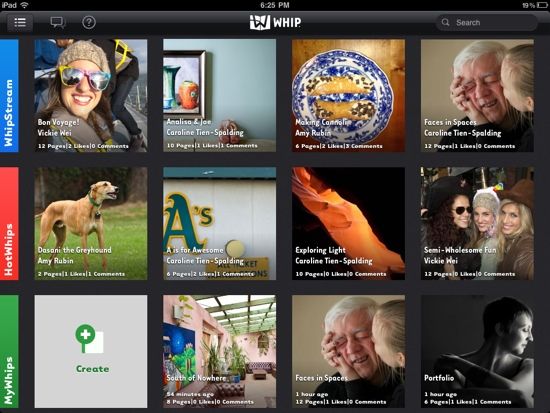 Whip has it own community where you can interact with other users (or Whipsters) directly within the app. You can share your Whips, view, comment or "like" other awesome Whips from the community. Within the app, you can see what's popular and trending at a glance in the HotWhips. You can follow your friends and other Whipsters including rock band The Killers and fashion guru Eva Chen.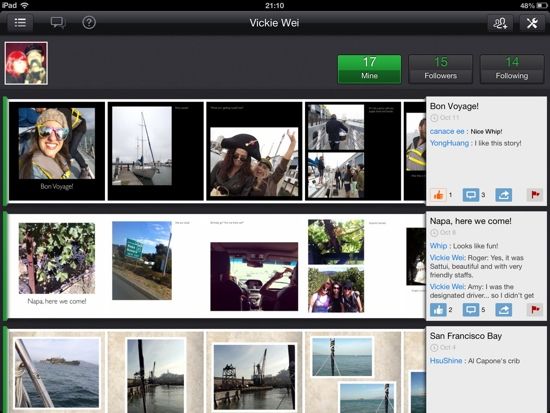 Watch the video below to learn more about Whip Social Album app.
Whip Social Album for iPad from Whip Social Album on Vimeo.
Create Your Own Story today!
Whip is great to document moments from holiday season or other important occasions in your life. For starters, you can create your first personalized photo album on the recently celebrated Christmas day. Yes, go and whip out your story today!
Related
Steve Yu is a technology blogger with ten years blogging experience under his belt. He is the founder of MyTechQuest.com or just MTQ.
Social Count

Windows 10

Latest Articles

Latest Android

Latest Freeware

Find Us on Facebook
Copyright © 2007 - 2017 My Tech Quest. All rights reserved. Powered by Wordpress and Hostgator.