Turn Off Monitor Display to Save Energy with Monitor Off Utility
'
Do you know that you can save a lot of energy  by simply turning off your monitor when you're away? For personal computer, you can put your monitor to sleep by simply press on the button on your monitor. For laptop user like me,  how can you do the same?
Monitor Off Utility is a freeware utility that enables you to turn off your monitor display with just a click of a button. You also can put your monitor into energy saving mode by using a self-defined hotkey.
After installation, Monitor Off Utility will sit at the system tray. To turn off the monitor, just right-click on the Monitor Off Utility tray icon, then select the "Turn Off Monitor(s)" option.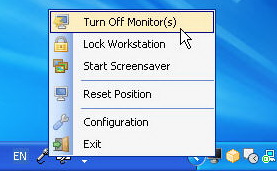 Your monitor will count down to 10 seconds and turn off. If you feel the monitor shut off delay is too long, you can set it to shorter time in the Monitor Off Utility configuration window (Right-click tray icon > Configuration).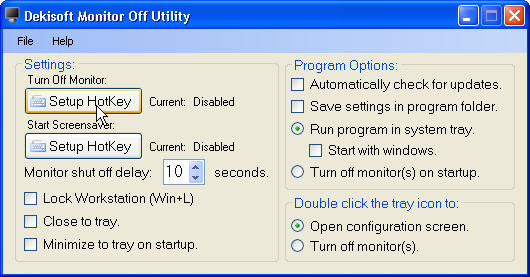 From the configuration window, you also can define your own hotkey to turn off monitor. Just click on the "Setup Hotkey" button under the Turn Off Monitor title. Shortly after, a new window will appeared. Now, you need to check the "Enable HotKey to turn off monitor(s)" option and defined your own hotkey e.g. Ctrl+ Alt + L. Then, click on the "Set" button. Done!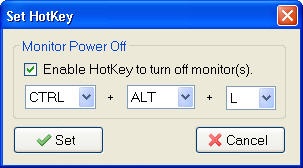 Read also – MonitorES Automatically Turns Off Monitor Display When You Lock Your PC
Besides defining hotkey to turn off monitor, you also can setup hotkey to start or activate screensaver. Also, there is an option where you can turn off monitor by double-clicking on the Monitor Off Utility tray icon. You need to first check the "Turn off monitor(s)" option under the Double click the tray icon to title.
This utility is compatible with  Windows 98, 2000, ME, XP and Vista. It also supports multiple monitors.