Top 10 Most Useful Windows 7 & Vista Sidebar Gadgets
By Steve Yu on April 13, 2010
@steveyu85
'
I've listed out 4 really useful sidebar gadgets for Windows Vista some time ago, and it's a quite an old article already. So I decided to update and extend the list, to include more and only the most useful desktop sidebar gadgets for Windows Vista and also for Windows 7. Trust me, you wouldn't feel like wasting valuable space on your desktop. Only the best sidebar gadgets should reside at your desktop.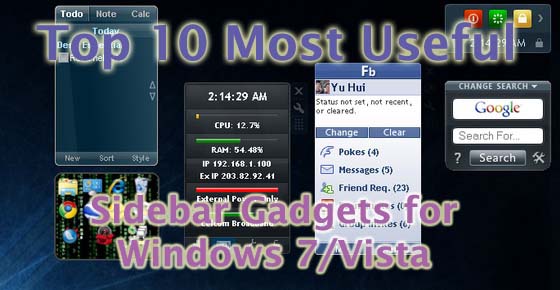 Wasting no time. Let's check out the top 10 most useful sidebar gadgets for Windows 7 and Vista operating system.
1. Ultimate Explorer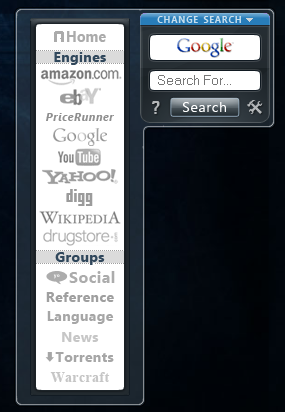 The Ultimate Explorer gives you the functionality to search over 50 different websites conveniently from your desktop in a single compact tool. Search Amazon, Google, Digg, YouTube, Yahoo, Drugstore, Wikipedia, eBay, WeatherBug, PriceRunner, your favorite social networking sites, WoW sites, news, and more with ease. Click on the "Change Search"button to choose your preferred search engine. You can also choose to display the search result in the web browser or in the gadget depending on the site. This gadget is chock full of options, engines, and settings. Feel free to discover it. 🙂
2. TweetZ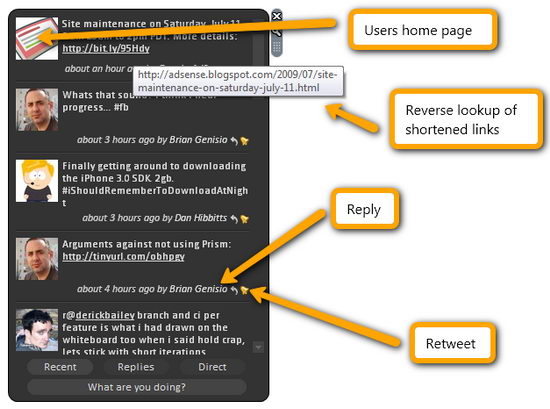 A Twitter client for Windows sidebar. You can tweet and reply tweet as expected. Simply scroll down to view earlier tweets and it comes link shortening functionality. See the screenshot above as it explains how to use TweetZ.
3. Fb Explorer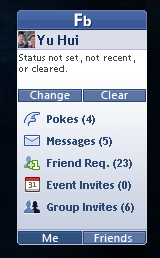 You don't have to fire up your browser for the sake of checking up any new status messages on Facebook. Fb Explorer lets you track incoming messages and friend activities as well as enable you to change your status message directly from the sidebar.
4. App Launcher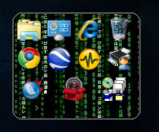 Quickly launch your frequently and favorite applications from the sidebar with App Launcher. You can drag and drop programs, files, folders and drives to the launcher or add them manually. You can also add Internet Explorer and/or Firefox favorites.
5. System Control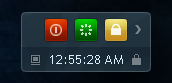 System Control is a system command launchpad for 12 different functions including: Shutdown, Restart, Lock, Switch User, Sleep, Hibernate, LogOff, Task Manager, Command Prompt, Run, Screensaver, and Control Panel. All of those buttons can be re-ordered or disabled / enabled.
6. System Monitor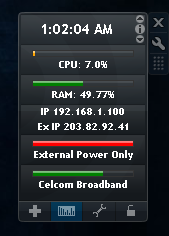 System Monitor gives you a heads up display of your system's internal readings (up to 6 readings). Includes CPU, RAM, IP, Battery, Wifi, and Time monitors. Also includes network tools in a separate tab.
7. The Magic Folder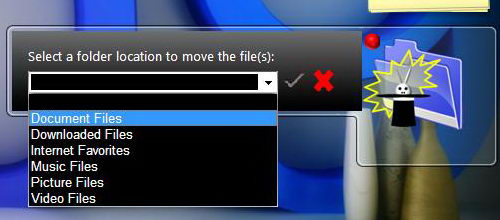 The Magic Folder helps reduce clutter on your desktop by categorizing and moving files to proper locations on your Windows. When you drag a file to the gadget, it will look at the file extension and place Document files (like doc, xls, ppt, etc) in the Document folder. It places image files like (JPEG, PNG, TIFF, GIF, etc) into the Pictures folder.
In addition, you can also add/remove file extensions recognized by the gadget and change where these files go. Plus, you can configure to add your own folder locations.
8.  Clipboard Manager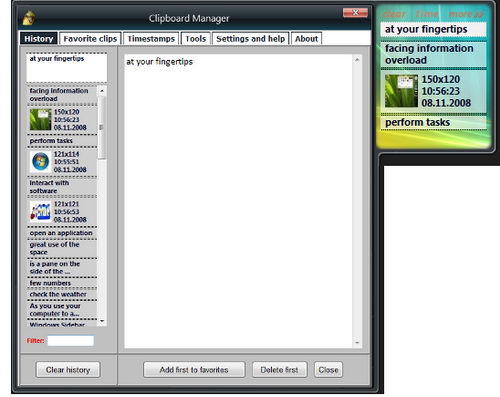 Forget about Windows Clipboard. Use Clipboard Manager! It can stored up 999 clipboard contents in its history. You can simply reuse previous clipboard contents, build a customized collection of your often pasted contents and easily timestamp your documents or remarks. Not only text, Clipboard Manager also supports images. Images also can be saved to history or marked as favorite clips.
9. Desk Essentials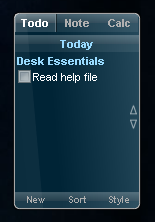 Desk Essentials has three handy utilities : a Todo list, Note list and Calculator bundled into one gadget, without taking out too much space on the sidebar. And I don't any reason why I don't want to get this sidebar gadget.
10. Xirrus Wi-Fi Monitor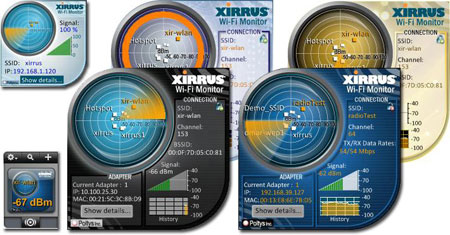 The Xirrus Wi-Fi Monitor is a comprehensive gadget for monitoring and managing the Wi-Fi on your system. Use it to search for Wi-Fi networks, verify Wi-Fi coverage, locate Wi-Fi devices, detect rogue APs, educate yourself about Wi-Fi, and more!
The gadget uses a radar display to show available Wi-Fi networks and their range. The main gadget face provides details on your current Wi-Fi connection. A fly out window provides details on Wi-Fi networks, including security settings, signal strength, channels and network types.
So there you are, all the 10 most useful sidebar gadgets for your Windows 7 & Vista. 🙂
Related
Steve Yu is a technology blogger with ten years blogging experience under his belt. He is the founder of MyTechQuest.com or just MTQ.
Social Count

Windows 10

Latest Articles

Latest Android

Latest Freeware

Find Us on Facebook
Copyright © 2007 - 2017 My Tech Quest. All rights reserved. Powered by Wordpress and Hostgator.