Set Up Screensaver as Desktop Wallpaper in Windows XP with Screen2Dream
'
I have blogged about a nifty tool can run your favorite screensaver as desktop background on Windows XP quite some time ago. It's called Vital Desktop. Here again I am talking about the same topic but using different tool called Screen2Dream.
Screen2Dream is a freeware desktop animation utility that can set up your favorite screensaver as desktop wallpaper on your Windows XP. Now, let's forget about the old boring static wallpaper sitting on your desktop and makes your desktop more alive with moving wallpaper.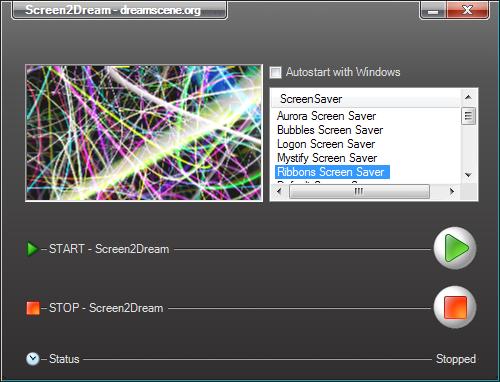 To turn your desktop wallpaper into moving wallpaper, here's what you need to follow.
First of all, you need to run Screen2Dream executable file from the downloaded rar file. There is no installation needed.
On the main window of Screen2Dream, select the screensaver from the list box as your desktop background.
Click the "Start" button to run the selected screensaver as desktop wallpaper.
To return to normal desktop mode, click the "Stop" button.
After applying the screensaver as desktop wallpaper, the desktop icons will be hidden (WTF!). But no worry, you can access the desktop shortcuts over the system tray menu while Screen2Dream is running. Also, make sure you enable the "Autostart with Windows" option to run Screen2Dream automatically on every Windows startup.
Microsoft .NET Framework 2.0 is required to run Screen2Dream.
Download Screen2Dream Now! | 193 KB