Secretly Copy Others USB Drive Content with USB Hidden Copier
'
Copying other people's files without their permission is very unethical. Most of the time, you don't even noticed that your files have been copied by others. Do you keep any important files in your USB pen drive? If yes, let find out how people can copy your files and folders from your USB drive into their computer without you even notice it. Even if you sit in front of the computer, your files from your USB drive can still be secretly copied by others.
USB Hidden Copier is a portable application that copies all the content (files and folders) from the USB drives that are connected to your computer and saves it to the hard drive. This process is invisible and the user (or the victim) doesn't know that his or her content has been secretly copied.
Here is the features of USB Hidden Copier :
It is totally invisible and masked enough in order not to be detected easily.
It will copy only a maximum of 8GB data.
Content is saved under the folder named as the USB Drive name.
It starts at computer startup.
First copy is made 3 minutes after computer starts and then every 10 minutes the content will be overwritten, so you will have always latest content of that USB.
Copied Content is saved in the default directory: "C:\WINDOWS\sysbackup\". You can specify the folder of your choice if you want to. Click the "Browse" button in the control panel.
The copier program is called "systemidle.exe" in order to mask it.
In order not to copy you own USB Drive you can create a file named "friendflag.winxp" and put it directly on your USB (this file can be also with hidden and system attributes so you will not delete it accidentally). So when the program finds this file it will not copy the drive when it is located (your USB).
To use USB Hidden Copier, after download the zip file, run the Control Panel.exe from the zip archive file. You will the USB Hidden Copier's window as same as below.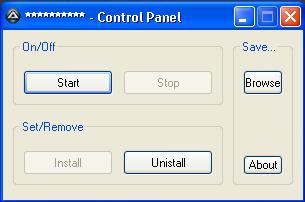 First of all, you need to click the "Install" button,  then click "Start" to start the program and "Stop" to stop the program or use combination keys to start and stop the copying process.
Shortly after your friend has plug in his or her pen drive to your computer and you have run virus scan to the pen drive, you can then start copying the pen drive content immediately by pressing the Alt+C key. You don't want copy virus to your PC, right? To close the program anytime or to stop copying, you can press the Alt+E key.
If the program is not actually copying or fail to copy content from pen drive, it will close (exit) and you will be notified for this by a triangle icon in the system tray, showing/hiding for half sec. Thanks, Abhishek.
Download USB Hidden File Copier by Technize
P.S : To avoid your important files from being copied out by other people using this application, you should create password-protected partition in your pen drive. You can store all the important files and folders into the encypted partition.