Scan and Remove Invalid/Broken Shortcuts in Windows with Orphans Remover
'
Most of the times when you install a new application, shortcuts (*.lnk files) are created as well to help you to launch the application faster. Desktop, start menu and user's document are the common location where you can find the shortcuts. The shortcuts are useful as long as the applications are not uninstalled from your system. Once the shortcuts are broken, it could become a problem to your Windows.
Most of the cases, shortcuts become broken when you remove or uninstall programs that have shortcuts using the Add/Remove Program in the Control Panel. The un-installation is never clean, leaving leftovers behind e.g. broken shortcuts. These shortcuts are no longer needed; therefore need to be removed from your Windows.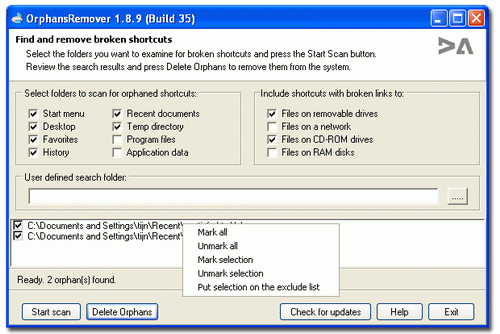 To find all the broken and invalid shortcuts on your system can be a tedious and time-wasting job to you. Instead of doing it manually, you should try Orphans Remover. Orphans Remover is a freeware Windows application that searches and deletes broken shortcuts (*.lnk files) on your Windows desktop, start menu, recent documents and more. On the main window of Orphans Remover, you can specify the folders that you want to scan for broken shortcuts. Orphans Remover can search for broken shortcuts in Windows start menu, desktop, favorites, history, recent documents, temp directory, program files and application data. You also can expand broken shortcuts scanning to include files on removable drivers, a network, CD-ROM drives and RAM disks. Besides, Orphans Remover supports for user defined folder where you can scan others directories for broken shortcuts other than the available locations.
After specifying the locations for scanning, click the "Start Scan" button to scan for broken shortcuts. After a successful scanning process, all the broken shortcuts are displayed. To delete the broken shortcuts, click on the "Delete Orphans" button.
Extra : As you know, the broken shortcuts are result from incomplete un-installation. This happens when you use the default Windows uninstaller, the Add/Remove Programs. Revo Uninstaller is a better alternative where it does not just done the uninstalling but also remove all traces that are left over on your computer such as the registry entries and also shortcuts.