Reduce Images Files Size by up to 98% with Freeware FILEminimizer Pictures 3.0
'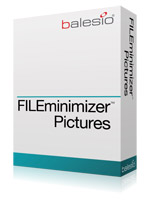 FILEminimizer Pictures 3.0 is a commercial-turned-freeware Windows application that is designed to help reduce the size of your images, digital photos and pictures by up to 98% without zipping. For example, a JPEG photo with a size of 5MB can be reduced to only 0.1MB. Even though the image size has been greatly reduced, but rest assured that your image quality remains the same and still in the same image format.

This free image compression tool is very useful especially to internet users who are actively sharing their photos and images online. By making the image files (a lot) smaller, it saves you time and bandwidth to upload the images to Facebook or other photo sharing sites like Flickr and Picasa etc. Also, smaller image file makes it easier to send images via email.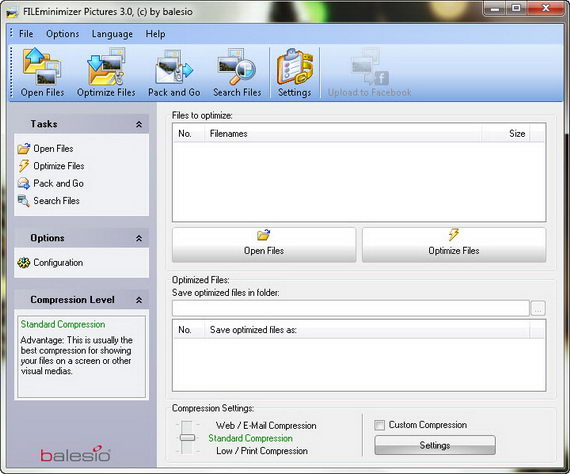 The new version comes with the new integrated Facebook upload functionality. It enables Facebook users to directly upload the optimized images to their account saving them a lot of valuable time. Plus, the software supports batch optimizations to optimize whole photo albums at once and features a powerful search wizard as well.
Key Features of FILEminimizer Pictures 3.0
JPEG file compression by up to 98% – reduce your JPEG files from 5MB to 0.1MB in size
Supports images compression in the formats JPEG, GIF, TIFF, BMP, PNG and EMF
Keeps the original file format – simply edit, view and change it without the need to unzip
Compress whole digital photo albums and galleries at once using a batch process
Choose the most adequate compression level from 4 different options
Facebook integration compress your photos and upload them directly to Facebook
Integrated search function finds all optimizable image files on the PC
"Drag & Drop" files directly into FILEminimizer Pictures to optimize several files at once
Fully compatible with Windows 7
FILEminimizer Pictures 3.0 is free for download and is compatible with Windows 7, Vista and Windows XP operating systems.