Re-Enable Windows Registry Editor, Cmd, Task Manager, Run, Folder Option and System Restore
'
Re-Enable is a handy Windows application that allows you to quickly re-enable the registry editor (regedit), command console (cmd), task manager, run command, folder option and system restore configuration with just a click of mouse. This portable tool is similar to Virus Effect Remover and XP Quick Fix (works for XP only).
Most of the time when your computer get infected by viruses, worms or trojans, these malicious codes will give you hard times for you to detect and remove them by disabling the Windows task manager, folder option, registry editor and command prompt.
Even after you've run your Anti-virus software and succeeded in removing these malicious codes, the effects caused by them is still there. So here you need to fire up Re-enable, check the options that you want to enable and then click on the Enable button. Now, all your previously disabled features are back.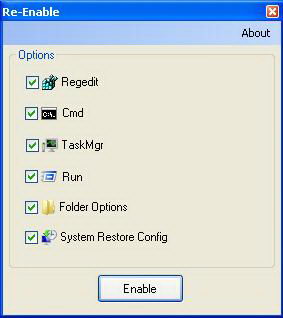 Re-enable is coded in .net but you doesn't need .net installed on your computer to run this freeware because .net dependencies are included in the program which makes this tool fully portable. Re-enable works perfectly on Windows XP, Vista and 7.