Quickly Fix 25 Common Windows XP Errors with XP Quick Fix
By Steve Yu on August 15, 2009
@steveyu85
'
XP Quick Fix is a lightweight application specially made for Windows XP that allows you to quickly repair and fix 25 common errors that can be found on Windows XP with just a single mouse click.
This freeware is essential for fixing and removing the effects or recover from the damages caused by the infection of viruses, worms and trojans to your windows registry and file system, like re-enable the task manager, folder options, registry editor and more. XP Quick Fix really reminds me of freeware application, Virus Effect Remover that I've mentioned on this blog quite some time ago.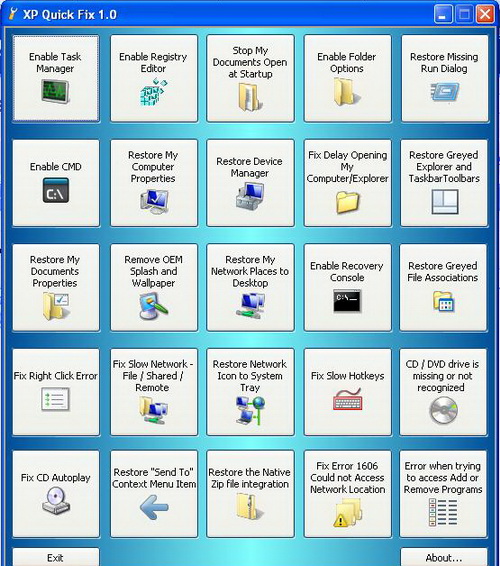 Here is the complete list of 25 problem fixes for Windows XP that XP Quck Fix can fix for you.
Enable Task Manager
Enable Registry Editor
Stop My Documents open at startup
Enable Folder Options
Restore missing Run dialog box
Enable Command Prompt
Restore My Computer (Computer) properties
Restore Device Manager
Fix delay in opening Explorer
Restore grayed Explorer and Taskbar toolbars
Restore My Documents properties
Remove OEM splash and wallpaper
Restore My Network Places to Desktop
Enable Recovery Console
Restore grayed file associations
Fix right-click error
Fix slow network file/shared/remote
Restore Network icon to system tray
Fix slow hotkeys
Fix CD/DVD drive is missing or not recognized
Fix CD autoplay
Restore "Send To" context menu item
Restore the native ZIP file integration
Fix error 1606 couldn't access network location
Error when trying to access Add or Remove/ Program and Features program
XP Quick Fix is a portable application, therefore requires no installation. XP Quick Fix comes with two files.  The LFX.exe (562kb) is the main program GUI with 25 problem fixes while QFC.exe (38kb) is a command line utility that comes with 5 error fixes. Simply run the LFX.exe and fix your Windows XP from the 25 common problems. Thanks, Madhur!
Related
Steve Yu is a technology blogger with ten years blogging experience under his belt. He is the founder of MyTechQuest.com or just MTQ.
Social Count

Android

Latest Articles

Latest Windows 10

Latest Freeware

Find Us on Facebook
Copyright © 2007 - 2017 My Tech Quest. All rights reserved. Powered by Wordpress and Hostgator.