Quickly Access to Over 70 Windows Commands and Features with Commands in Demand
By Steve Yu on August 17, 2009
@steveyu85
'
Commands in Demand is a free and handy Windows application that provides you with instant and easy access to a collection of more than 70 useful Windows commands and features. Many of these commands and features are hard to find or time consuming to get to, especially if you are a non-technical user of Windows Vista and XP.
All commands are very easy to access through a user-friendly interface and are put into several categories, ranging from applications errors to windows applications.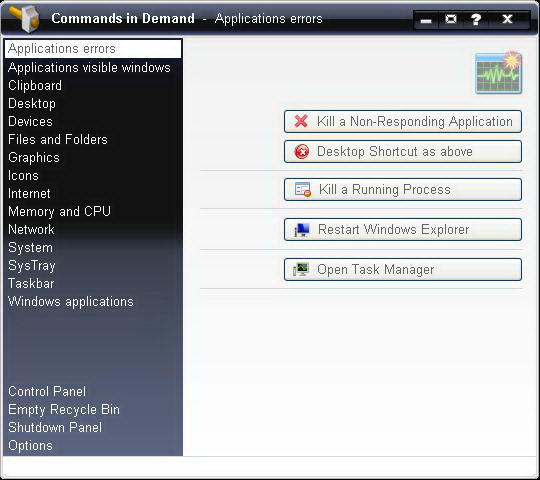 And here are some of the commands that you might find useful.
Applications' Shortcuts creator to minimize apps in the SysTray
Clipboard real-time Editing
Color Sample Picker
Command Prompt starter in any folder of the System
Desktop Icons Refreshing
Desktop Shortcuts Copy to a desirable folder
Device Manager with Hidden Devices
Hide / Show Desktop Icons
Icons Extraction from files
Images Convertion of known formats
Internet Searching with Two Engines simultaneously
List Alphabetizer Application
Memory and CPU Info
Memory Instantly Cleaning
Non-Responding Applications Killing
Running Processes Killing
Safely Removal of USB Drives
Screenshots of whatever is visible
System Drives Quick Cleaning
System instant General Refresh
System's Clock Hiding
System's Volume Mute
Taskbar Hiding
Transparency Level to the Active window
Transparency Level to the Taskbar
URL Shortcuts creation
User's and Common System Folders browsing
Windows commonly used and hidden applications starter
WinLogoKey shortcuts simulator
Related
Steve Yu is a technology blogger with ten years blogging experience under his belt. He is the founder of MyTechQuest.com or just MTQ.
Social Count

Android

Latest Articles

Latest Windows 10

Latest Freeware

Find Us on Facebook
Copyright © 2007 - 2017 My Tech Quest. All rights reserved. Powered by Wordpress and Hostgator.