Norton Removal Tool 2010
'
Recently, Norton Removal Tool has been updated from previous version of Norton Removal Tool 2009 to the latest version of  Norton Removal Tool 2010. The latest version allows you to completely remove/uninstall the latest Norton Anti-Virus 2010 and Norton Internet Security 2010.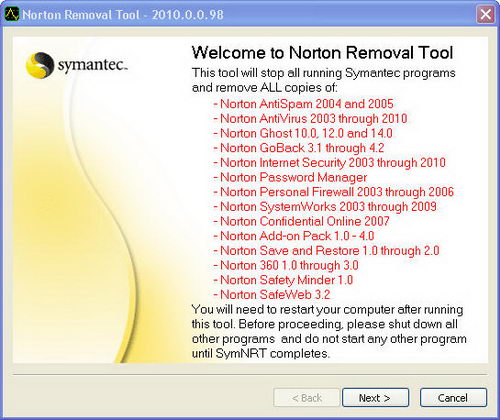 Here is the complete list of Norton programs that can be removed using Norton Removal Tool 2010:
Norton AntiSpam 2004 and 2005
Norton AntiVirus 2003 through 2010
Norton Ghost version 10.0, 12.0 and 14.0
Norton GoBack 3.1 through 4.2
Norton Internet Security 2003 through 2010
Norton Password Manager
Norton Personal Firewall 2003 through 2006
Norton SystemWorks 2003 through 2009
Norton Save and Restore 1.0 through 3.0
Norton 360 1.0 through 3.0
Norton Safety Minder 1.0
Norton SafeWeb 3.2
Please keep in mind that you only need to use this removal tool to remove a failed installation or a damaged Norton product.
Norton Removal Tool is designed to work with Windows 2000, XP and Vista.