How to Lock your Windows with a USB flash drive?
'
What else can you use your USB pendrive for, besides as a place to store data? Okay, you can create bootable USB flash drive to install OS (Windows 8, Linux or the latest Windows 10 Technical Preview) or even use it as rescue disk. You can also run portable apps directly (without installation) from your usb drive. But how many of you knew that you can use USB flash drive to lock/unlock your computer?
Introducing USB Raptor – a lightweight yet handy tool that enables you to turn any USB flash drive into a key that can be used to lock and unlock your computer. When you unplug the USB flash drive, your computer will be automatically locked. To unlock your computer, simply insert the flash drive back to the usb port. It's simple as that.
To use this tool, first you run the USB Raptor.exe file after you have extracted all the contents from the downloaded zip file. In the main window, you are shown with the simplified interface of USB Raptor. You can check Advanced Configuration to see more options. But as for now, let's stick with the simple ones.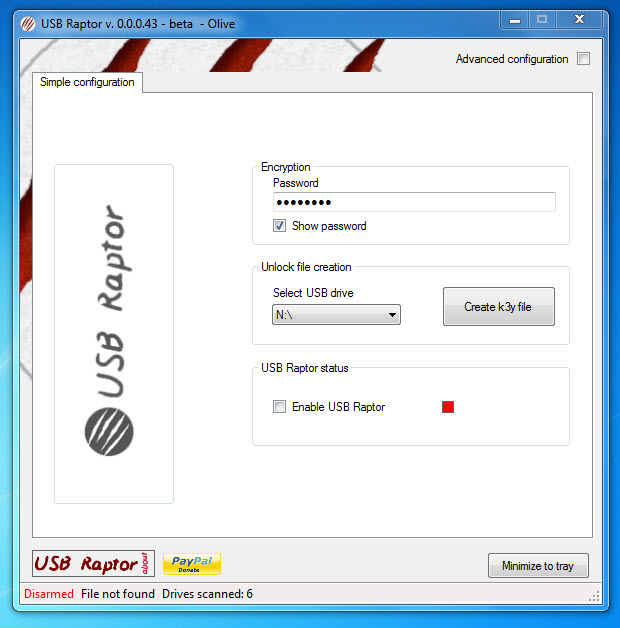 Basically, what you need to do is to plug in your flash drive to the computer. You don't have to empty your flash drive, as USB Raptor will use only 1KB of the available space. Now, enter your desired password in the main window, then select the drive letter of your plugged-in flash drive. Click on the button next to it to create k3y file into the flash drive. Note that the same file can be created for multiple flash drives. Meaning that more than one flash drive can be used to lock/unlock a computer.
You may want look at the advanced configuration before putting USB Raptor to work. Once you are done with the settings, simply check the Enable USB Raptor option.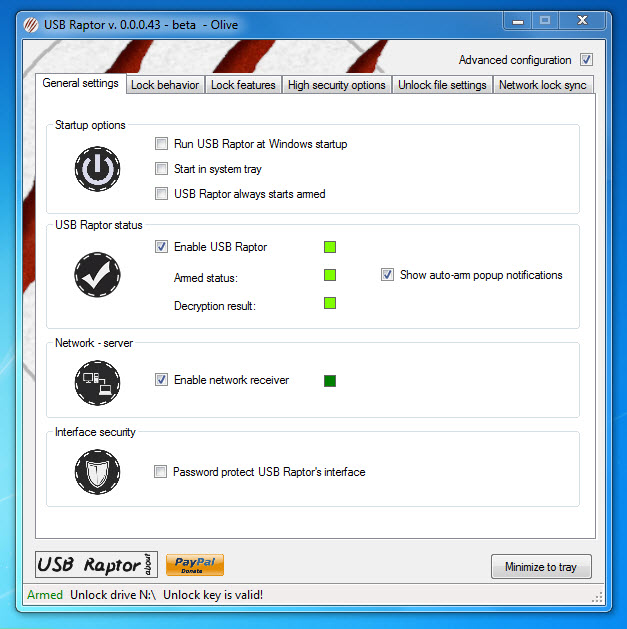 You should notice a handful of options such as the ability to password protect the program, delay lock for 5 seconds and mute computer during locked mode. As each flash drive has unique serial number, you can set only one usb flash drive to unlock computer by enabling the USB serial number detection. This way, USB Raptor will verify the serial number of the flash drive and check the presence of k3y file before unlocking your computer.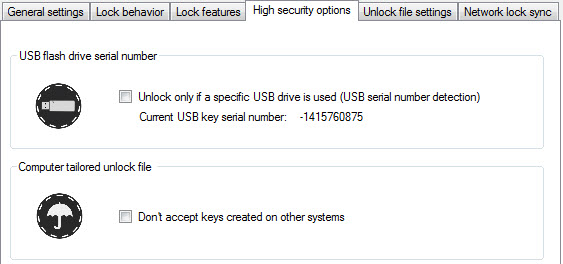 Other than using usb flash drive, you can use password or network command (enable them under lock features tab) to lock/unlock the computer.
This is how your screen should look like when it's locked.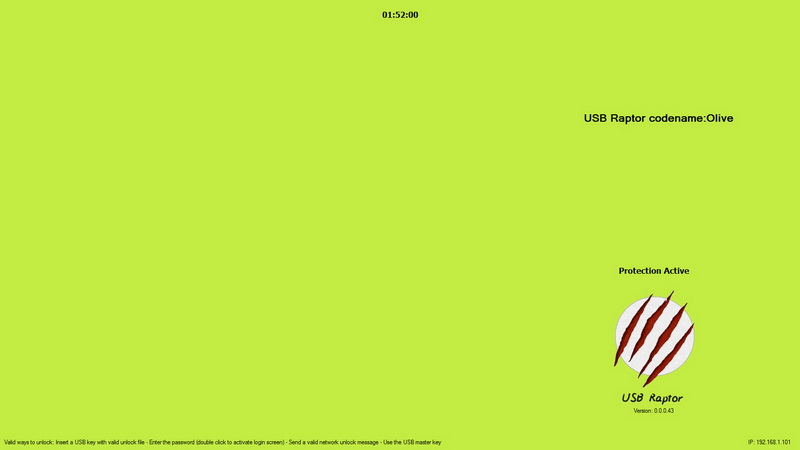 USB Raptor is free for download and is compatible with Windows 8, Windows 7, Vista and XP.