Lock and Delete Autorun-Related Viruses from USB Drive with No Autorun
'
One of the most common and also the easiest methods to spread virus to a particular computer is none other than using the USB drive. When you insert an infected USB drive to a computer, the virus or malware that resides in the USB drive will automatically launch itself using the autorun method. I believe that you don't want the virus to get into your computer and harms your system, right? So what should you do?
No Autorun is a lightweight portable Window application that blocks virus in USB flash drive from auto-running, thus prevents the virus from doing damage to your computer system.
No Autorun works as background process. It sits at the system tray, waiting for USB flash drive insertion. When a USB flash drive is plugged into your computer, this application will detect and lock suspicious files in the USB drive, such as the autorun.inf file, all the autorun-related virus and other related executable files.
The screenshot below shown the main window of No Autorun. All the suspicious files will be listed under the Locked Suspicious Files. You are not seeing one in the screenshot because I can't find any of my USB flash drives with virus inside. 🙂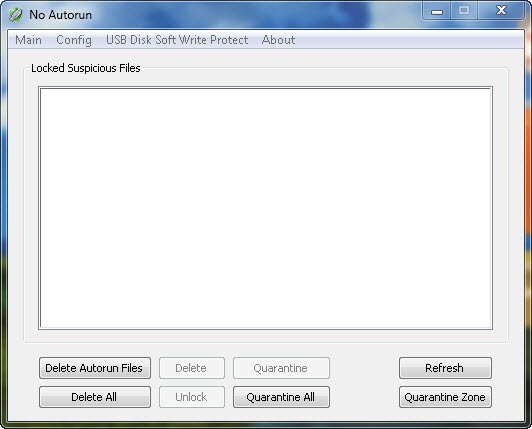 To delete the suspicious files, simply click the "Delete Autorun Files" or "Delete All" button. And you can only delete the locked suspicious files from there, so please do not try to delete them from Windows explorer or elsewhere because trust me, you are not able to delete the files. If you want to open one of these files, just open the main window, select the file and push the "Unlock" button.
If somehow you can't determine that whether the suspicious files are virus or not, just leave them there. The files is in locked condition them so that they can't be executed and harm your computer.
The screenshot below shown the configuration window of No Autorun.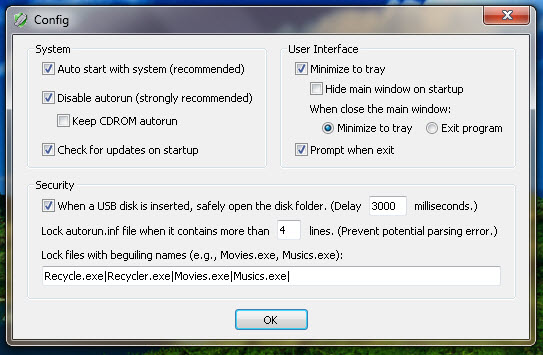 In addition, this application comes with the "USB disk soft write protect" function. When this option is enabled, any newly connected USB flash drive will become read-only for your computer. It's useful when your PC is already infected, and you don't want to spread the virus to the USB drive.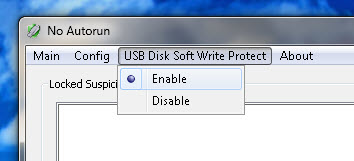 No Autorun is compatible with Windows XP, Vista and 7.
Download No Autorun to block and delete all virus related to the autorun.inf file in USB drive.