Keep Updated with All Your Facebook Notifications Directly from Your Desktop
'
How many times in a day, do you login to your Facebook account just to check for all sort of notification messages on your Facebook wall? I am a little addicted to Facebook ( not so addicted though 🙂 ) and I regularly check for new activity on my Facebook page. Sometime, it can be tiring to login to your Facebook account every hour if not minute, just to keep updated with new Facebook notifications.
And here is a quick and easy way to get all your Facebook notifications without having to fire up a browser. All the Facebook updates will show up right on your desktop. FBquick is a free Facebook notifier for Windows that will send you an instant pop-up notification on your desktop whenever there is new activity happens on your Facebook account. With FBquick, you receive instant Facebook notifications including new Facebook messages, pokes, walls, group invites, event invites, friend requests, tagged photos and shares.

FBquick is easy to set up. After installed, FBquick will sit at the system tray and you are required to login to Facebook through this application. After successfully login, FBquick is ready to run.

Read also – How to Stop Displaying Quiz and Application Notification Messages on Facebook Wall?
On the options page (Right-click on FBquick tray icon > Options ), you are able to change several settings, such as select the type of Facebook notifications that you want to check for update, how frequent you want FBquick to check for update and also how long will the pop-up notification lingers.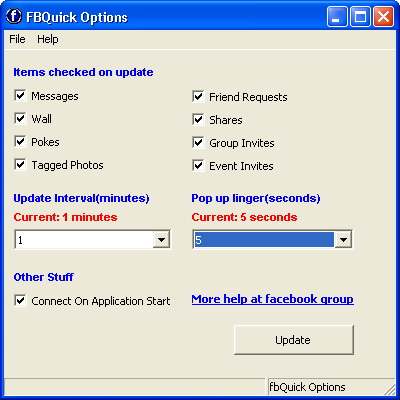 Now with FBquick, you can monitor your Facebook profile without a web browser.