How to Install a Live Linux Distribution on USB Flash Drive? [Tutorial]
'
There are chances that you have a few spare (and older) USB flash drives lying around without you using it for quite a while. So you wonder, what can you do with these USB flash drives? Well, I'm glad you'd asked. Actually, have you ever think of running the Linux operating system from the USB drive? Don't worry, this won't mess up with your Windows.
By using a portable Live Linux USB Creator called the Universal USB Installer, you can install and run virtually any Linux distribution (both latest and older version) from Ubuntu to Fedora, OpenSUSE to Linux Mint, directly from your USB flash drive. With just three steps, you can get a Linux distribution running from your USB drive. Before proceed, you want to make sure that your USB flash drive is FAT32 formatted and has at least 2GB of storage.
The Universal USB Installer is easy to use and has a straightforward interface. Non-advanced users wouldn't find it hard to use this application. First, you need to choose a Live Linux distribution (from the drop-down menu) that you wish to install on USB drive. In our example, we are going to install the Ubuntu 12.04 Desktop.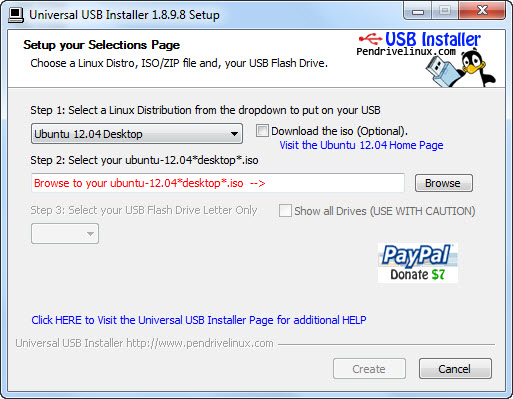 Next, you need to browse your hard drive for the ISO file of the Linux distribution that you wish to install. Make sure the version of ISO file matches the version of the Linux distribution you choose. If you don't already have the ISO file, you can either download the ISO file from the official website of the Linux distribution or have the Universal USB Installer to point you the download link of the Linux distribution. Click the "Download the iso (Optional)" option to do so.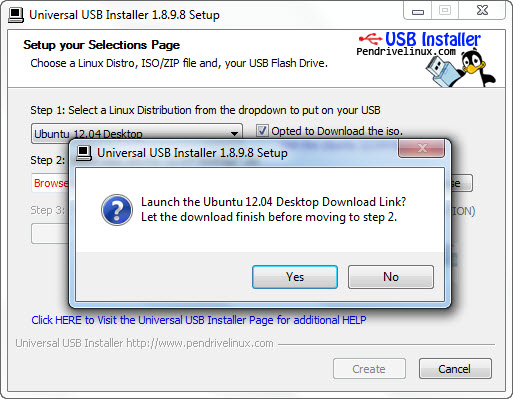 It should take quite a while for the download process to complete, depending on the file size and your internet connection speed. In our case, the ISO file of Ubuntu 12.04 Desktop is more than 700 Mb in size and it took about one and half hour to complete.
Once the download has completed, locate the ISO file. Then select the USB flash drive that you wish to install. Make sure you choose the correct drive letter. Next, you are recommended to re-format the USB drive. Make sure you have already back up the files from the USB drive to your computer. After that, you might want to set persistent file size to store files, settings and programs in Step 4. Otherwise, just leave it as it is, but keep in mind that any changes you made while running the Linux will not be saved. Once done, simply hit the "Create" button.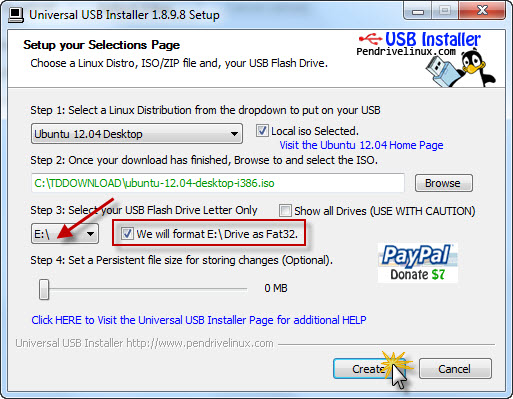 It will take a few minutes for the process to complete. Upon completion, you are ready to boot and run the installed Linux distribution (in our case, the Ubuntu 12.04 Desktop) from the USB flash drive. Make sure to set in your computer's BIOS the option to boot from USB drives.
Universal USB Installer is free for download and is compatible with Windows 7, Vista and XP.