How to Hide Any Drive/Partition on Your Computer?
'
I don't prefer sharing computer with other users. Many will agree with that it is certainly not safe to keep all the important files on that PC. Your private data may get accessed easily by other users while you are not around. The good news is that even though you have to share computer with many users, there are many ways that you can use to prevent anyone from accessing your personal data.
You can choose to lock and hide your important files and folders using folder protection tool. Or you can password-protect your hard drive partition. Encrypt data or keep your files on pen drive are also good ideas.
Another good solution is by hiding the drive or partition that holds the sensitive data on your computer. How are you going to do it? Use M Hide Drives. M Hide Drivers is a free utility for Windows that enables you to quickly hide and unhide any drive or partition on your computer.
After complete installation, on the first launch, you are prompted to provide a password. The password is needed to hide or unhide any drive. Click OK to continue.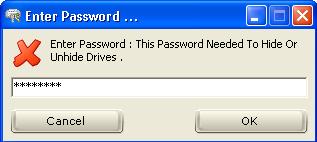 On the main window of M Hide Drives, you will see a list with all the drives from A to Z. To hide the desired drive, just check its letter and click the "Hide" button. You will be prompted to provide the correct password. Type in the correct password and hit OK.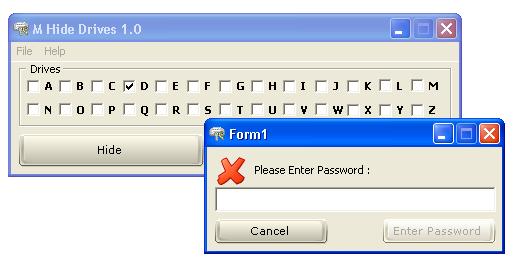 M Hide Drives will start hiding the drive. To complete the hiding process, you need to log off or restart your Windows. It is better to just log off. After log off and log on, the drive will become hidden. See my Drive D has gone!

To unhide the drive, uncheck the drive letter and click the "Unhide" button. Provide the correct password and click OK. Again, you need to log off or restart your computer to complete the process.