How to Enhance Windows Taskbar with Thumbnail Snaphot Feature in Windows XP?
By Steve Yu on March 29, 2008
@steveyu85
'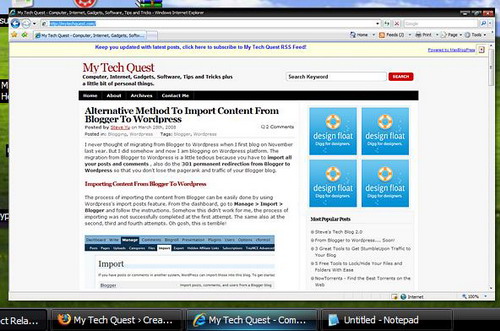 In Windows XP, you'll get a standard info tip when you hover your mouse over a taskbar item in the Windows taskbar, whereas in Windows Vista, you are provided with a thumbnail snapshot instead of the boring info tip. So do you want to enhance your Windows taskbar with this cool feature in Windows XP but how?
Visual Task Tips is a handy Windows shell enhancement that displays a thumbnail snapshot of any Windows that was minimized to the Windows taskbar.
It's pretty easy. All you need is to download and install this free Windows application, Visual Task Tips, on your computer. That's all. After the installation, you may want to select your preferred thumbnail size , popup delay and refresh rate.
Download Visual Task Tips Now | 102 KB
Related
Steve Yu is a technology blogger with ten years blogging experience under his belt. He is the founder of MyTechQuest.com or just MTQ.
Social Count

Android

Latest Articles

Latest Windows 10

Latest Freeware

Find Us on Facebook
Copyright © 2007 - 2017 My Tech Quest. All rights reserved. Powered by Wordpress and Hostgator.