How to Downgrade Internet Explorer 10 to Internet Explorer 9 on Windows 7?
'
It is common to find bugs and encounter issues while running a beta program on your system. Internet Explorer 10 (IE10) Release Preview for Windows 7 is no exception.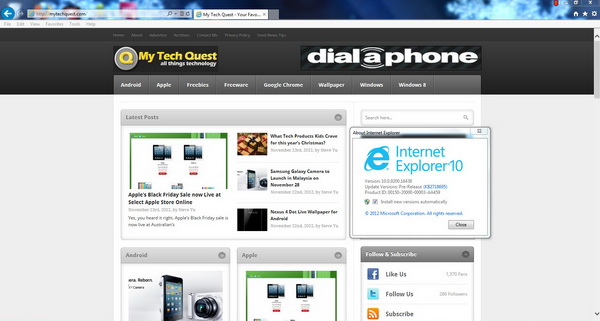 We've tested IE10 for more than a week now, and our verdict is that the new browser from Microsoft is not yet ready for the prime time. Yes, you need to wait for the stable version before decide to install it on your system. We encountered bugs and issues while navigating our online trading account (yes, this is what we do beside blogging) has became difficult in IE10, with the drop-down menu not showing up and bugs appeared when we tried to view some information.
What can you do to solve this problem? Well, the best solution is to remove IE10 completely from your system and restore it back to previous version – IE9. 
To do so, access the built-in uninstall tool on Windows 7 (Start > Control Panel > Programs > Uninstall a program). Then, click on View Installed Updates from the sidebar.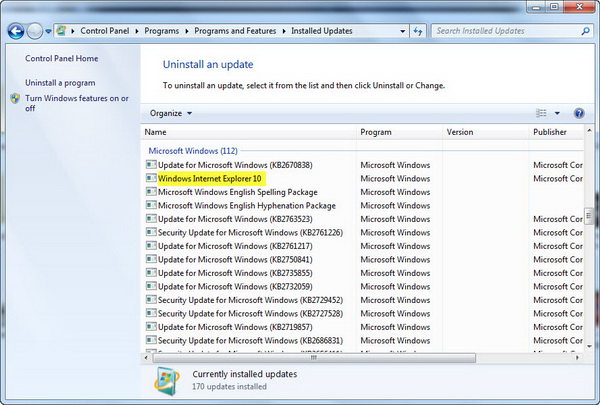 Scroll your way down to the Microsoft Windows section, and locate Windows Internet Explorer 10. Click on it and choose to Uninstall. Goodbye, IE10 and welcome back, IE9. We shall meet again when the stable version arrives. 🙂