Free EDB Viewer Tool to Open EDB file without Exchange Server
'
The Exchange EDB file, also known as Exchange Database file is used to store the entire content (emails, task, calendars, notes etc.) of Exchange server. Sometime Exchange administrator needs to open and view the data of EDB file outside the Exchange Server environment.
Exchange EDB Viewer Tool provides the best and easiest way to open and view the content of EDB file without Exchange Server environment. The tool has potentials to open even corrupted, password protected and encrypted EDB file.
Technical Details of Free EDB Viewer Tool
Software Name: Free EDB Viewer
Software Version: 1.0
File Size: 7.1 MB
System Requirements to Install Free PST Viewer
Operating System: Windows 10, 8.1, 8, 7, XP, 98
Processor: Minimum 1GHz Processor
RAM: 512 MB
Free Space in HDD: 15 MB of free space
Inside Information of Free EDB Viewer Tool
Main Functionality: The tool is mainly used to Open EDB file without Exchange environment. Along with that, it is also used for the forensics purpose as it provides multiple modes (MIME, HEX, RTF, etc.) to view EDB documents.
Main Features of the Free EDB Viewer
Easily Open and View EDB without Microsoft Exchange Server.
Open Corrupted, Password protected and Encrypted EDB files.
View EDB file in multiple modes (HEX, MIME, RTF, etc.) for forensics purpose.
View Private (Priv1.edb) and Public folder (Pub1.edb) of Exchange database.
How to use Free EDB Viewer Tool to open EDB File
First of all download the software by following the link http://www.freeviewer.org/edb/. After that install the software in your machine. Now launch the EDB Viewer software.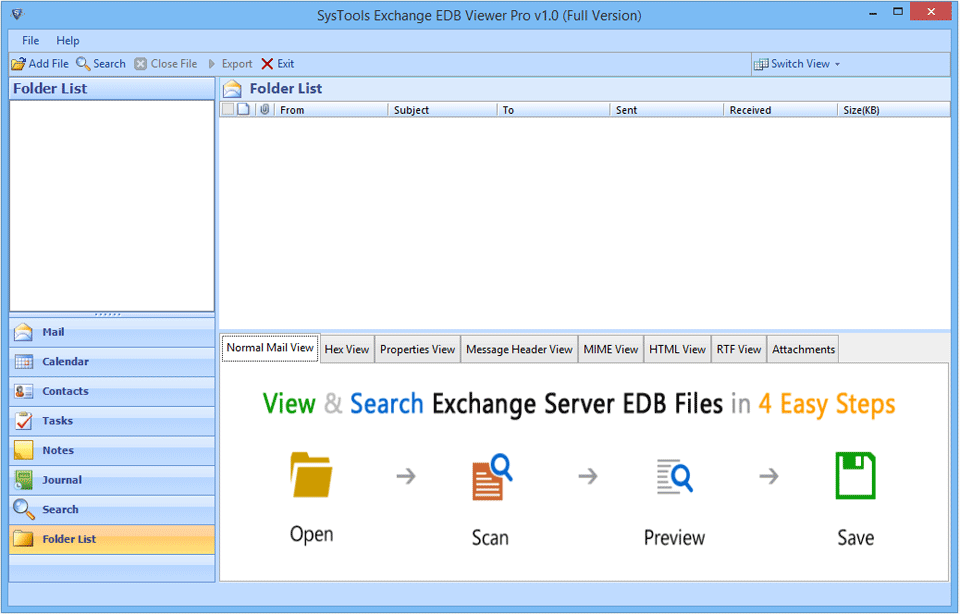 Now Add the Exchange EDB file by clicking on the Add File button.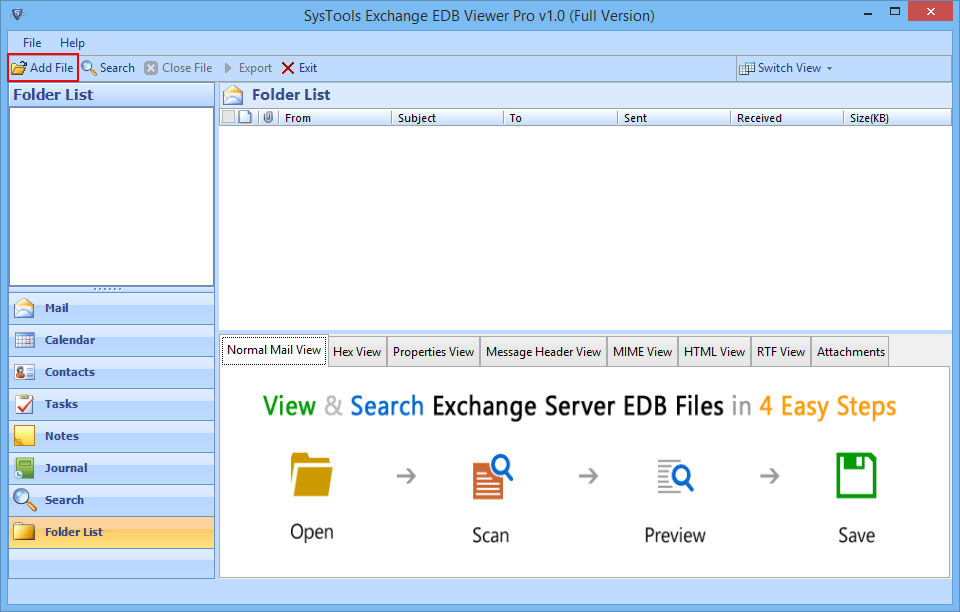 Now Browse the EDB file that you want to view, Select Quick or Advance Scan based on the level of corruption in EDB and click on Add File button.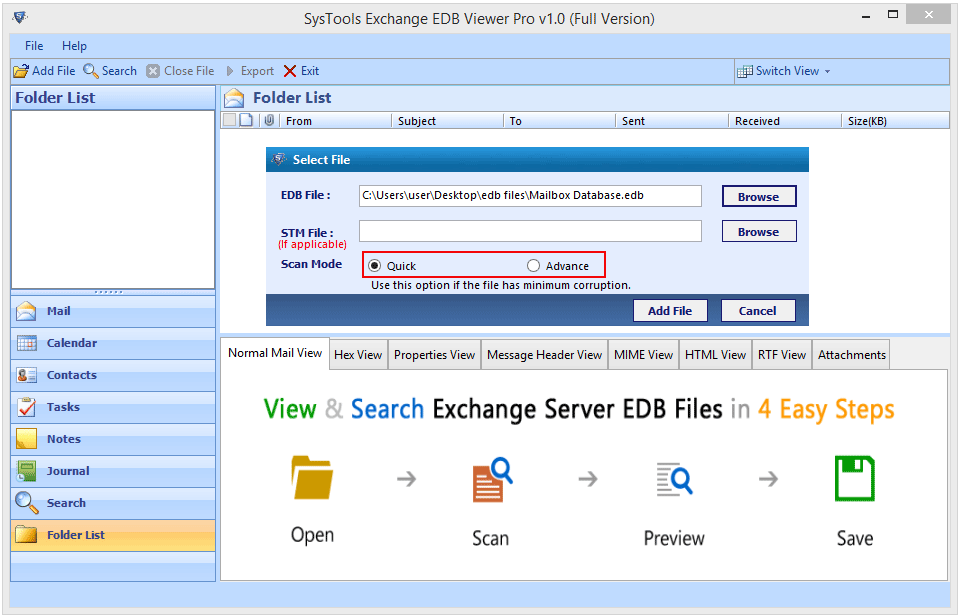 After completion of the scanning process, the software will preview the items of Exchange EDB file.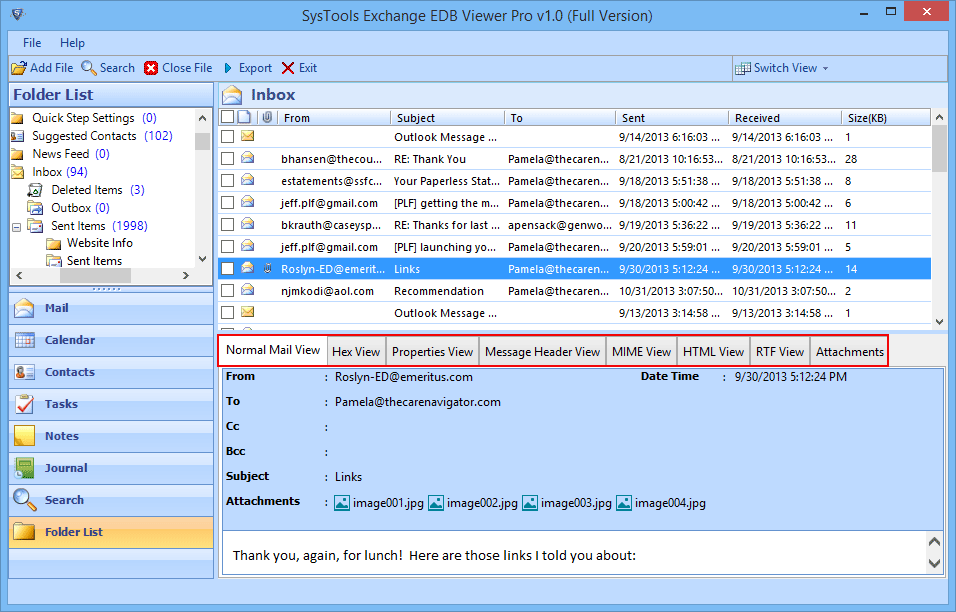 The EDB Viewer provides multiple modes to view the document of EDB file.
Normal View: This shows the body part of email.
Hex View: This code shows the hex code (Binary code) of Email and mainly used to forensics purpose.
Properties View: This option is used to view the attribute of message
Header View: This option is used to view the header part of the email.
MIME View: This option is also available for forensics purpose.
HTML View: This shows the HTML Coded view of Email.
RTF View: This is used to view the formatting of message.
Attachment View: This option is used to view the attachment of EDB file.
Advance Search to Search the EDB mails by keyword term
The software provides advance search option with which user can search emails by providing particular keywords.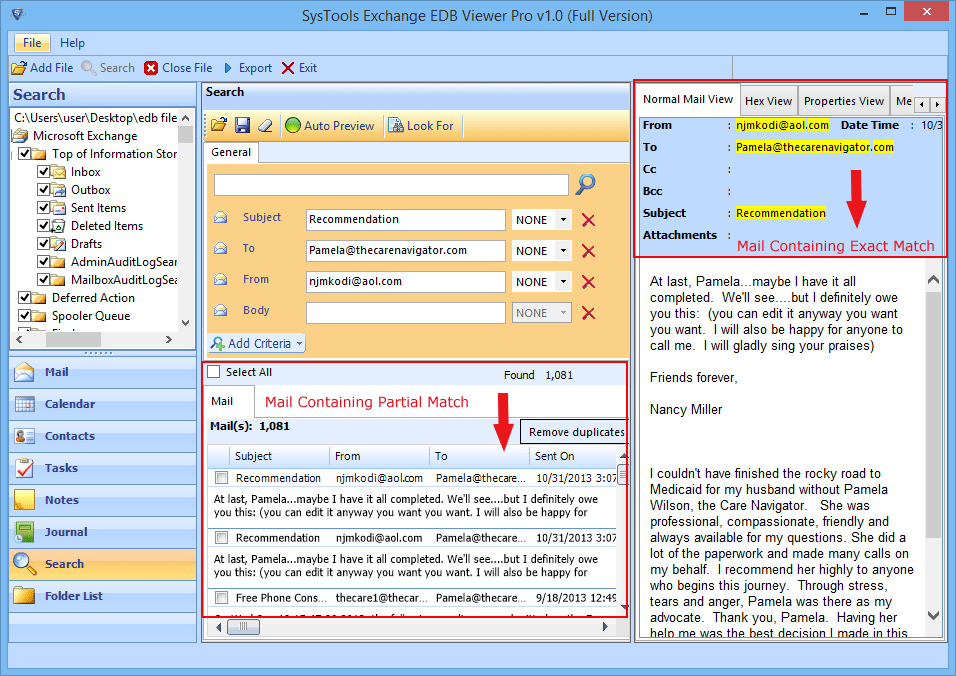 Along with that there is also an additional option to save the emails in PDF file format. Just click on Export button to save EDB in PDF format.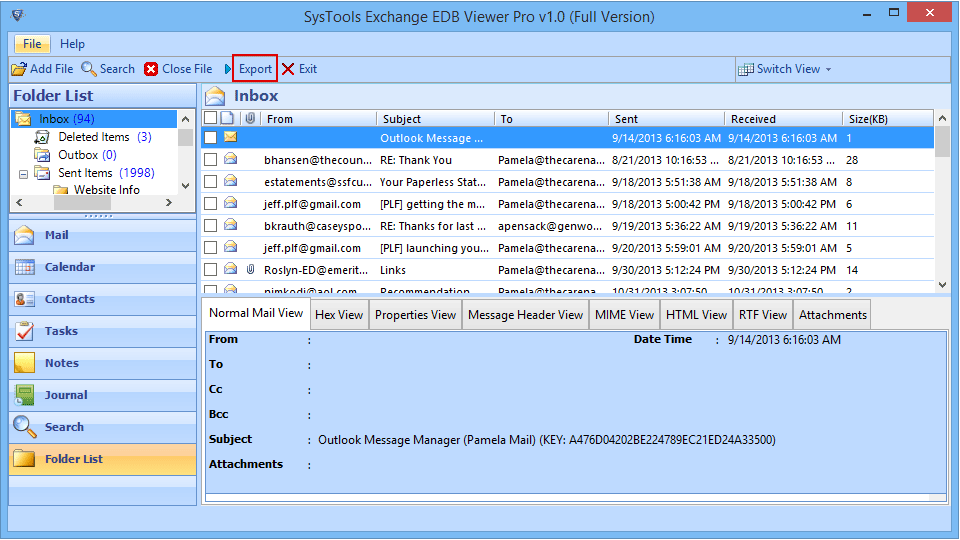 Conclusion:
Here is the overall mechanism to use Free EDB Viewer tool to Open and View EDB file. Hope it was helpful for you.
About the Author : Joe Prior has spent his valuable time & efforts in researching important concepts of Exchange Server and Outlook. He is still doing the research on recovering and migrating exchange server in efficient time
Editor's note : If you would like to contribute guest article on My Tech Quest, please leave us a message via the contact us page.