Driver Sweeper Safely Remove Driver Leftover Files from Your Windows
'
There is nothing wrong to update your Windows hardware device drivers to the latest version and Driver Update software is an essential and handy tool to automate the process of updating hardware drivers. But if you don't properly remove your old drivers, they can cause system instability, startup problems, slowdowns, hardware woes, and system crashes.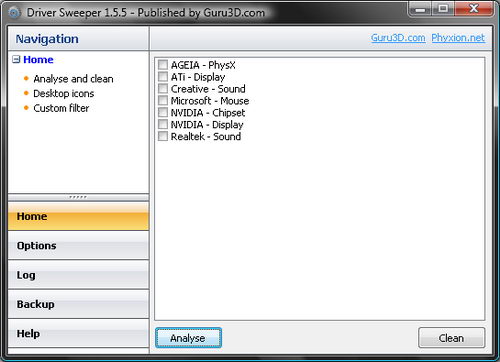 Driver Sweeper is just the right tool that you need.  This nifty little utility enables you to remove driver leftovers from your system. It sweeps through your system, finds old drivers, then lets you remove them. Here is how you are going to use Driver Sweeper. You can clean your drivers this way:
Use the official uninstaller(s) of the driver(s) you want to uninstall. I prefer Revo Uninstaller.
Reboot your PC in Safe Mode.
Run Driver Sweeper and select what to clean.
Analyse lists all the entries possible to remove, cleaning removes the entries selected
More drivers can be selected for the same cleaning process.
This method will delete remaining files upon reboot (if deleting failed). If something goes wrong after the removal, you can always restore to the prior state.
The current supported drivers are NVIDIA (Display and Chipset), ATI (Display), Creative (Sound) Realtek (Sound), Ageia (PhysX) and Microsoft (Mouse). 
Driver Sweeper is a freeware and designed to work with Windows 2000, XP and Vista.