Download Windows 7 Superbar for Windows XP
'
One of the improved features in Windows 7 is the enhanced taskbar, or known as the Superbar. In Windows XP and Vista, each application's running window is represented by a 16×16 sized icon and text label, on the taskbar.
In Windows 7, the taskbar is re-designed to look cleaner where the Superbar displays only the 48×48 icons. The text label is no longer displayed next to the icon. The Superbar also is better organised using the process grouping system, where each application's running windows are all grouped under a single icon.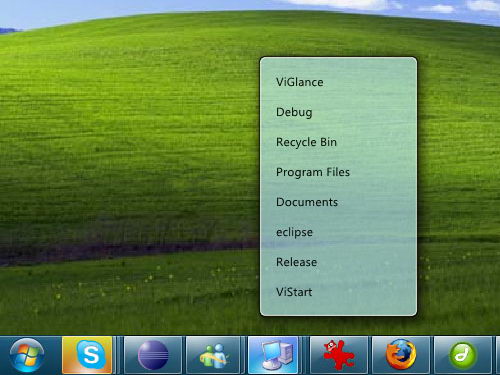 Now, you can get the Superbar feature on your Windows XP by using the ViGlance utility. ViGlance is a portable utility. So there is no installation required. After download, just unzip the zip archive file. Then, double click to run the executable file. After a short while, you will see the changes on your taskbar.
The ViGlance also replaces that ugly XP start button with a small and beautiful 7 orb replica.