Download Windows 7 Sidebar for Windows XP and Vista
By Steve Yu on September 1, 2009
@steveyu85
'
Do you want to have the new Windows 7 style sidebar for your Windows XP and Vista? Thoosje's Windows 7 sidebar is a free downloadable Windows 7 sidebar that works perfectly on Windows XP and Vista.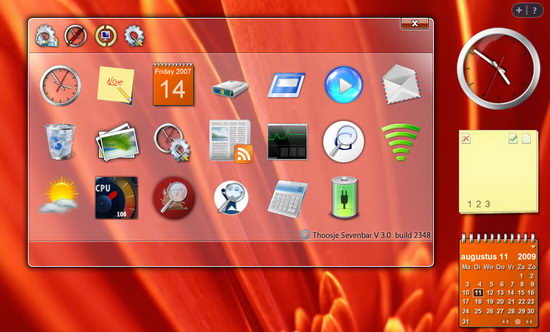 This sidebar has gadgets like media players, google search, yahoo search and lots of more search engines. It has also Windows 7 sidebar gadgets like weather and system uptime and lots of more useful gadgets. The sidebar uses 50% less RAM and is faster than the original Microsoft Sidebar with more extras.
For more gadgets, you can browse the Windows Live Gadget library and put them in your sidebar. Don't worry, the gadgets are compatible with Thoosje's Windows 7 sidebar.
Download Thoosje's Windows 7 Sidebar
Related
Steve Yu is a technology blogger with ten years blogging experience under his belt. He is the founder of MyTechQuest.com or just MTQ.
Social Count

Android

Latest Articles

Latest Windows 10

Latest Freeware

Find Us on Facebook
Copyright © 2007 - 2017 My Tech Quest. All rights reserved. Powered by Wordpress and Hostgator.