Download Free Serial Key for Full Version SpeedUpMyPC 2009
'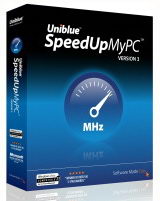 Need to speed up your slow PC but don't want to go through all those difficult and time consuming tasks to fine tune your PC?
SpeedUpMyPC 2009 is Uniblue's award-winning and top rated PC performance enhancer that helps you to boost your PC's speed. Using SpeedUpMyPC, your system settings, disk clutter, RAM and CPU are all automatically scanned, cleaned and optimized for peak performance.
Other features include :
Super Charge Internet Performance – 

Optimize your Internet connection. Clear all history including unnecessary and private data saved by your browser. Significantly reduce page loading time and enjoy faster surfing.

Disable Processes – 

Hundreds of processes are running 'under the hood' of your PC right now. Some are fine. Others are malicious. SpeedUpMyPC allows you to disable or quarantine the evil ones.

Clean Up Unwanted Garbage – 

SpeedUpMyPC cleans everything up from cookies to saved forms, making your PC not only smoother to run, but also enhancing your privacy.

Take Control of your PC – 

Monitor and control all PC resources. Free up RAM for power-hungry programs, and dedicate more CPU time to all those programms you want running faster.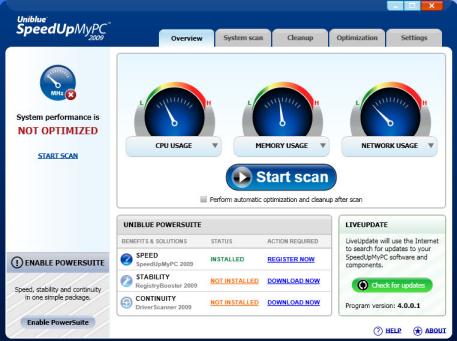 The price tag for a copy of SpeedUpMyPC 2009 is USD$29.95. With all these great features, I believe some of you will not mind spending a little money to purchase this software. But hold on a second, because the good news is you can grab yourself a copy of SpeedUpMyPC 2009 free of charge, saving you almost 30 bucks.
Read also – Grab Free License Key for Full Version Uniblue DiskRescue 2009
Currently, there is a great promotion that offers you a free genuine serial key for SpeedUpMyPC 2009 software. To receive your free genuine serial number to activate your full version of SpeedUpMyPC 2009, please follow the instructions below.
Visit the promo page.
Enter the required details and click "Submit". Make sure you use valid email.
Now, check your inbox for SpeedUpMyPC serial number. Note the key.
Download setup installer of SpeedUpMyPC and install it.
Once installed, click on the yellow "Register Now" button and use the serial number to upgrade SpeedUpMyPC to full version.
SpeedUpMyPC requires the latest Microsoft .NET 3.5 framework. If you don't already have it, don't worry, SpeedUpMyPC will automatically install .NET itself.
This free full version of SpeedUpMyPC includes 12 months of ActiveProtection – product updates and support.