Download Bing Screensaver for Windows 7, Vista and XP
By Steve Yu on May 9, 2010
@steveyu85
'
If downloading the Bing wallpapers or the Bing's Best 2 Theme Pack for Windows 7 is not enough for you, Microsoft has released the first ever Bing screensaver as a free download for Windows 7, Vista and XP operating systems.

The Bing screensaver, named as the "Bing Around the World", put together a collection of only the best of the Bing homepage image wallpapers into a screensaver.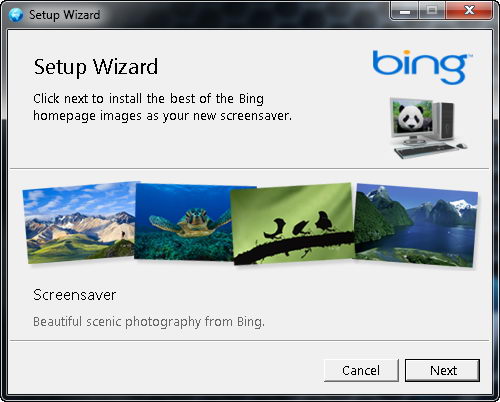 After download, you just need to run the bingScreensaver executable file to install the screensaver to your system. After installed, the Bing screensaver will be automatically set as your new screensaver.
Related
Steve Yu is a technology blogger with ten years blogging experience under his belt. He is the founder of MyTechQuest.com or just MTQ.
Social Count

Windows 10

Latest Articles

Latest Android

Latest Freeware

Find Us on Facebook
Copyright © 2007 - 2017 My Tech Quest. All rights reserved. Powered by Wordpress and Hostgator.